Israeli Poalim Digital Bank is an innovative banking paperless concept without any work-stations, where every activity is accomplished via tablets smartphones or interactive digital stations. For the new Jerusalem branch in Mamila mall, Tel-Aviv based SC Architecture Studio has selected a combination of black and white colours of Corian® Solid Surface for conferring a modern and elegant look to the interiors. Curvy counters and furniture contain all the digital and electronic equipment creating a digital yet warm and welcoming environment.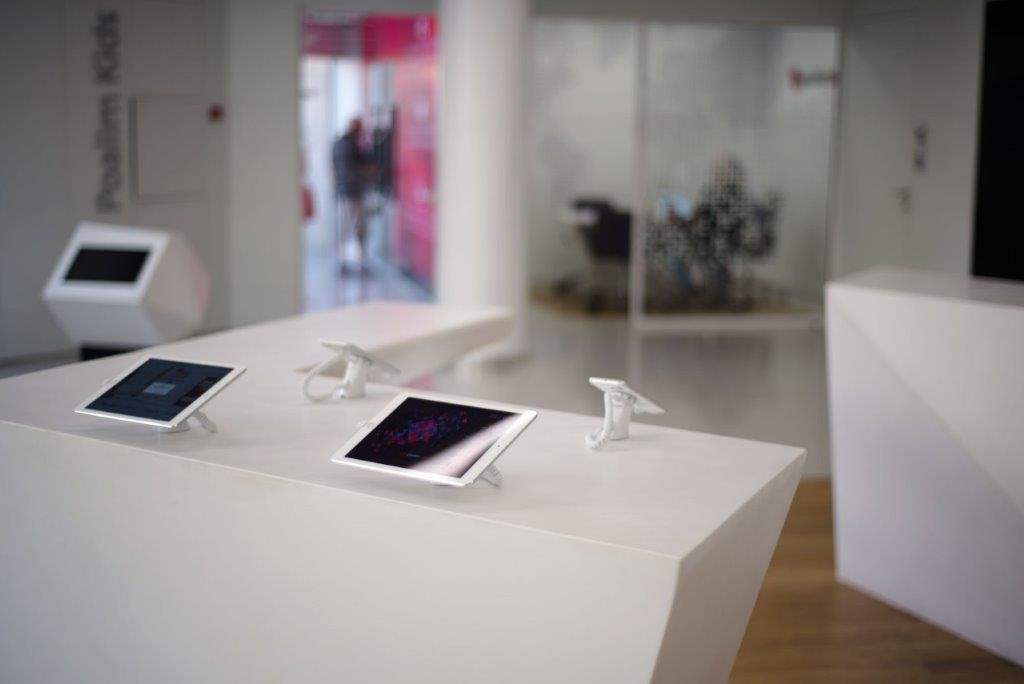 In Israel, the new Jerusalem branch of Poalim Digital Bank features furnishing solutions made. With Corian® Solid Surface in white and black colours. The material's smooth and versatile Surface withstands the wear and tear of heavy daily traffic while conveying the innovative digital banking concept; project by SC Architecture Studio; photo Mark Segal, courtesy of Nyga Products, all rights reserved.
The Poalim Digital bank opened in 2017 at Mamila open street mall just by the old city of Jerusalem. The branch's interior is an open space with ethereal lighting including a large scale screen that seamlessly curves along a glass cladded geometric wall creating a relaxed yet up to date atmosphere. Two interactive wall size screens are used to give information on banking products and features of the bank's mobile application. Large windows allow the interior to be highly visible from outside.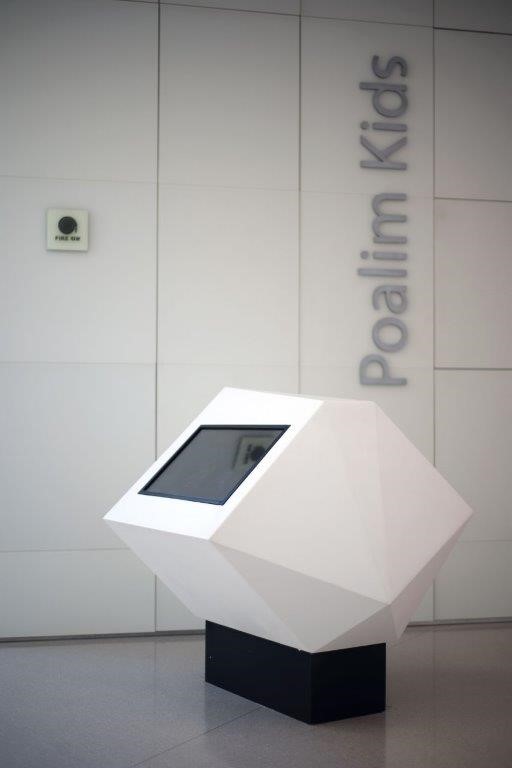 Among the capturing features of the branch are the custom furnishings made with Corian® Solid Surface. Two sculptural counters used by bankers and customers are dominant in the space. The furniture was combined with cutting edge technology of touch screens and applications to create the touch table and the kids' corner. These furnishings were researched and developed in cooperation with experienced Israeli company Liony specialized in the fabrication of Corian® Solid Surface.
"Our studio researched, designed and developed Israel's first digital branch concept for the largest bank in Israel. The development involved a multitude of core stages that included flow of customers and defining the digital program along with the design of the digital space. We combined high end interior design and materials together with advanced technology to define the bank concept. The design chosen, in line with the bank's management and CEO, encourages clients to explore the many digital screens, information centers and experience personal service by bankers." says SC architects.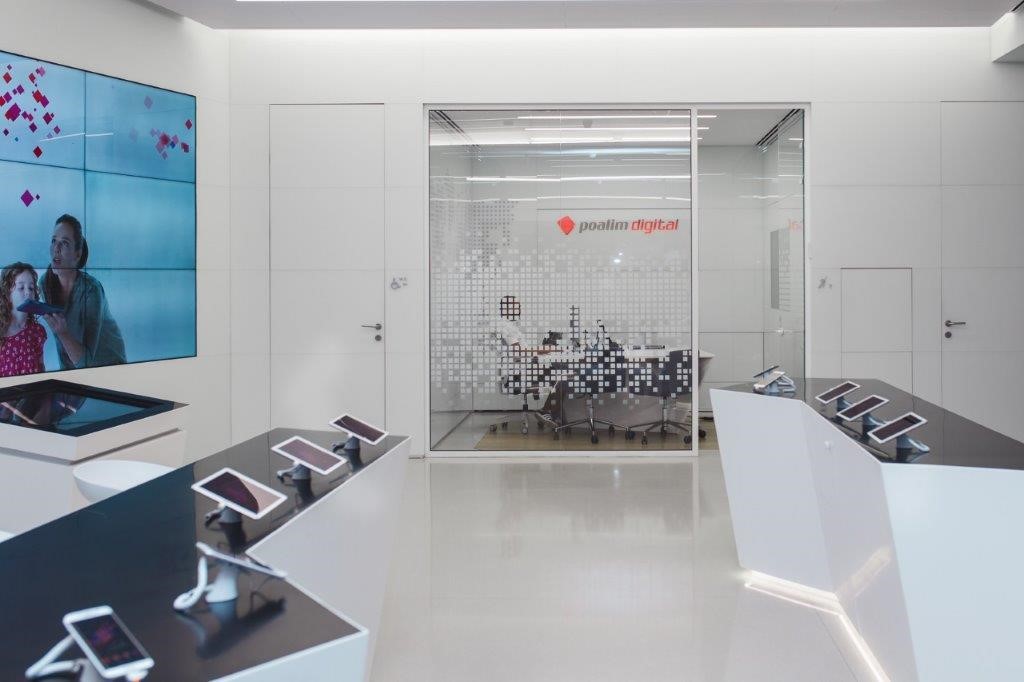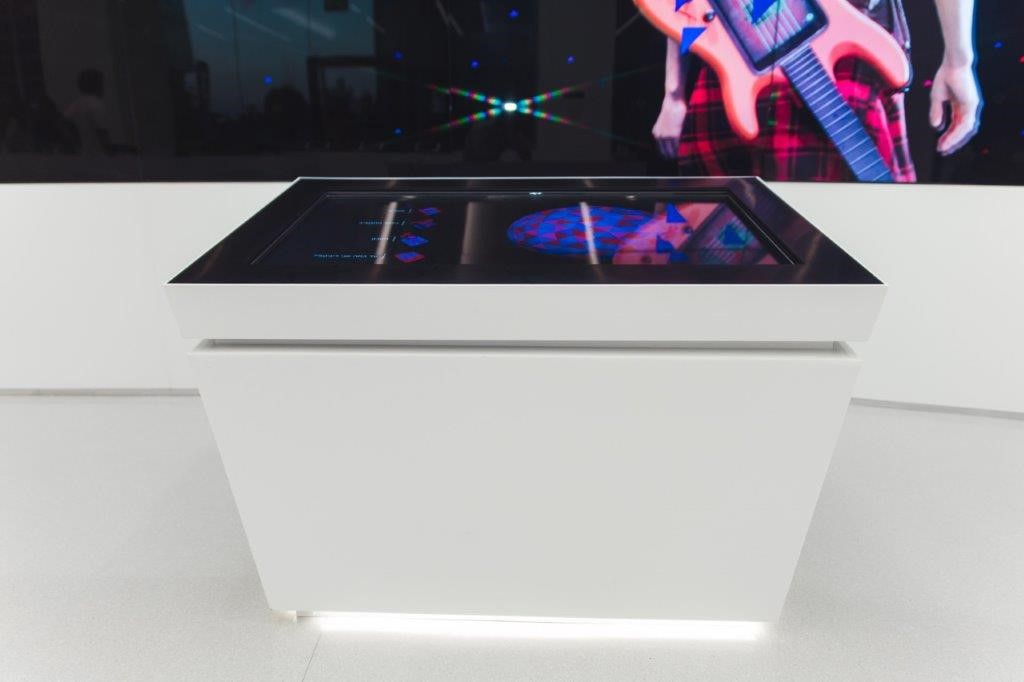 With its combination of aesthetics and technical qualities, Corian® Solid Surface is a reliable material for high profile public spaces, meeting the unique demands of architects and companies. Its smooth and versatile surface can both convey the right image and withstand the wear and tear of heavy daily traffic. Thanks to its seamless appearance and solid feel, Corian® Solid Surface has the substance to create impressive, large-scale designs, while also offering the durability, ease of cleaning, and minimal maintenance that these spaces require in the long term.