The reception area is an integral part of the corporate identity of each company as it provides the first fundamental impression to business guests and employees. Large international organizations such as EY, (formerly Ernst & Young) know well that first impressions are the ones that last forever, and their new offices in Athens welcome visitors in an elegant environment, characterized by the combination of precious materials and an exceptionally unusual reception desk that makes a strong statement.
EY, one of the largest audit and professional services firm in the world, commissioned KLab architecture studio to design the interiors of their new Athens premises located in the renowned Northern district of Maroussi. KLab architecture conceived an atrium that places center stage a captivating reception desk made with the high-tech surface material Corian®.
Geometric layers at the heart of the desk's design draw the eye into the new Deep Nocturne colour of Corian® produced with the exclusive DeepColour Technology™.
Konstantinos Labrinopoulos, owner at KLab architecture, says, "The complex, sculptural form of the desk was inspired by a fragment of black marble block as it gets sliced into slabs in the quarry. The black marble which is present in the overall design of the space is replaced in the furniture by Corian® Deep Nocturne which allowed us to realize our idea in a lighter and more functional construction, and the LED lighting emphasizes the complexity of the form."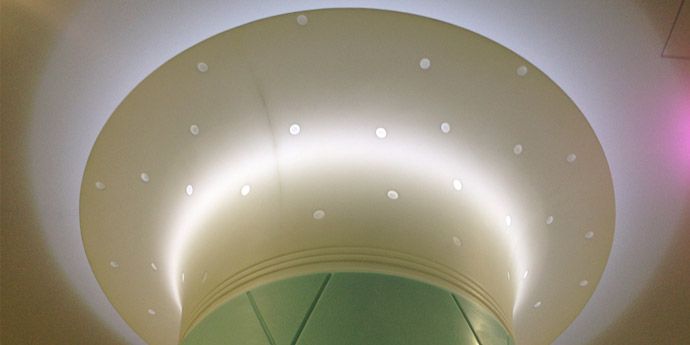 George Giannikopoulos, owner of Giorgio Gianni, has carried out the fabrication of this spectacular desk. He explains, "From a technical point of view, this was a challenging project. We are very satisfied with the beautiful result and the combination of the new Deep Nocturne colour of Corian® with the LED illumination is really stunning!"
The Deep Nocturne colour is part of the new dark colours series launched by Corian® for the design and architecture world, and opens a new range of creative possibilities. Designers and architects have now an increased colour choice from the Corian® palette in response to consumers' requirements of dark colours for interior design.
Beyond offering increased opportunities for the creative process, solid surfaces made with DeepColour™ Technology provide deeper, more intense and durable colour, improved wear performance and easier thermoforming, seaming and finishing. The Deep Nocturne colour used for the reception desk at EY new offices is the ideal solution for a piece of furniture that has to resist to an intensive everyday use.