The renowned design bureau Villa ProCtrl has developed an iPad® holder from Corian® high-tech surface, a material as versatile and continuously evolving, as the iPad itself.
Luut Groenhof, commercial director at Villa ProCtrl commented: "At first we experimented with acrylic, but that didn't have the right quality. Corian® has the same density as concrete. It's sturdy and durable, which is important for stability. You really feel like you're holding something. Also, it's not cold to the touch, which makes it pleasant to hold." The iPad stand with Corian® is going to be global sensation.
iPad stand for public areas
Design bureau Villa ProCtrl delivers audio-visual products such as lecterns and television stands for the high-end market. Manufactured from luxury materials, their products are used by hotel chains, multinationals and governments in more than forty countries. Increasingly, Villa ProCtrl's customer base is working with iPad® tablets, for example in shops and at trade fairs, but also in hotel lobbies and hospitals. This has led to a demand for an iPad® stand that is functional, but which also reflects the unique design of the Apple tablet.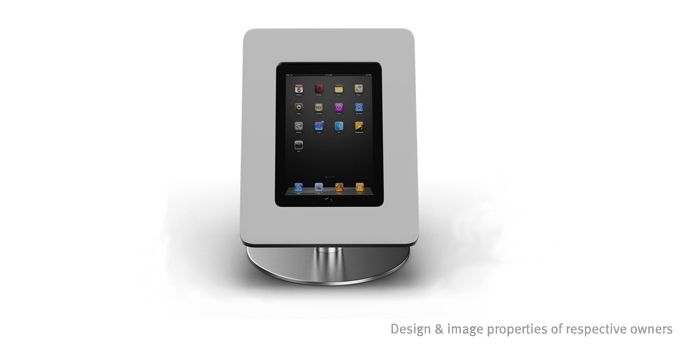 iTop Twist Counter stand in Corian® (Glacier White colour). Photos: Olery, all rights reserved.
Design solution
Corian® can be seamlessly applied to every form imaginable. Angles can be rounded and the surface can be smoothed into a matt satin gloss. Corian® is often applied to large surfaces such as kitchen work surfaces and even building façades, but it is also excellent for small and very thin surfaces. Corian® is also moisture repellent, so germs and bacteria have no chance to take hold. Not only that, but the material does not lose its shape, expand or shrink, and any scratches or other damage can be quickly repaired without leaving a mark. Furthermore, Corian® combines well with other materials.
Luxurious look
Because of these strong features, design bureau Villa ProCtrl decided to use Corian® for their new iPad® stand. The material proved to be perfectly suited for a tablet stand. Just like all the other products from Villa ProCtrl, the foot of the stand was made from robust and elegant stainless steel. A Floor Stand, Wall Mount or Counter Stand are all currently available.
"In all three forms, Corian® combined with the stainless steel make a stunningly beautiful combination. These two materials unite the best of both worlds and have an extremely luxurious look."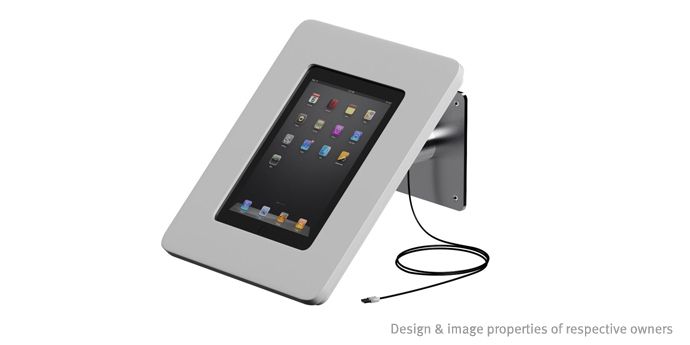 iTop Twist Wall Mount in Corian®, Glacier White. Photo: Villa ProCtrl, all rights reserved.
Easy to keep clean
Few people realize that the iPad, with its touch screen, is essentially an unhygienic device. In a public area, users will swipe away all day meaning that dirt and germs will become attached to the screen. It is therefore of the greatest importance to regularly clean the screen.
When placed in the iPad® stand by Villa ProCtrl, cleaning becomes a very simple task. The holder from Corian® is just 20 mm thick and closes tightly all around the tablet. And because the material is waterproof, the tablet holder and the glass screen can be cleaned and disinfected in one easy move. This means that the tablet can also be used in hospitals.