ISSUES
Steelcase, a leading global manufacturer of office furniture and environments, wanted to create and display an innovative piece of contemporary architecture at NeoCon 2005.
To inspire conversation about their company, they designed a concept meeting space – a yurt, modelled after portable tents used by nomadic people of Asia.
Project designer John Hamilton built the circular, domed meeting space, or yurt structure, offering a unique solution to the transient nature of work and the need to huddle around an idea.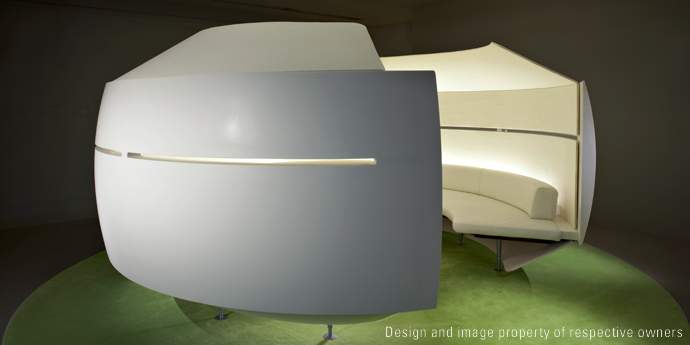 CHALLENGES
Specifying a durable material with the ability to be formed virtually seamlessly into the curved and monolithic shell of the conceptual yurt.
Identifying a versatile material with the innate strength and depth to withstand patterned holes envisioned in the middle of the structure.
Securing a visually inviting material that would enhance the overall design and create a welcoming feel for the gathering space.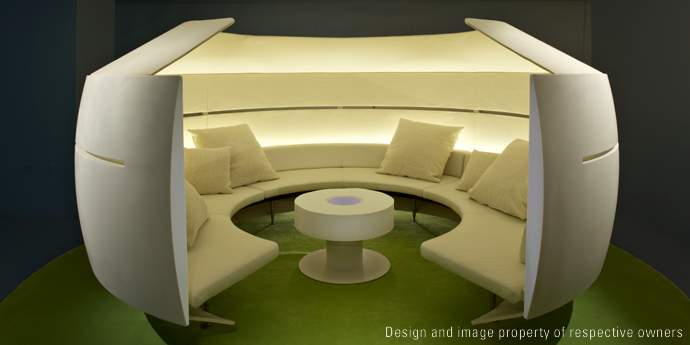 SOLUTIONS
Hamilton chose Corian® solid surface to wrap the outside of his structure because it could be thermoformed to create a beautifully curved shell.
Using computer technology to create a design template, identical horizontal holes were cut in the middle of the Corian® shell using a CNC routing process. The holes allow those outside the yurt to tell when it is occupied and those inside the yurt to be able see out.
"We identified materials that convey luxury; rich leather, fine wood, precision metals, hard stones, and Corian®. We chose Corian® for its tactile sense and its ability to be formed into monolithic architectural volumes of different sizes and shapes," said Hamilton.
BENEFITS
The virtually seamless nature of Corian® allowed the conceptual shape and smooth surface of the design to become a reality for attendees to see and touch.
Corian® resists chips, scratches, cracks, stains and is a renewable material because marks can be removed easily to restore it to its original condition.
Corian® is available in a wide range of colours and aesthetics.