Corian® advanced surface has been used to create the dramatic backdrop and furniture for the permanent collection of the newly opened Museu do Amanhã in Rio de Janeiro. The museum is part of the revitalisation of the city's docklands, a city hall initiative. Unique design and cutting-edge technology have transformed Corian® into a collection of highly innovative creations. The pieces are designed with tomorrow in mind and represent man's role as an agent for changing the future.
Cosmos
Cosmos – a black 'egg' measuring 20m long, 14m wide and 11m high – is made in Corian® in the Nocturne colour. It is a large elliptical-shaped structure in which each piece has been formed, including the entry and exit tunnels. The piece features huge monolithic areas inside which provide visitors with their first immersive experience on entering the museum. With space for 200 people, 'Cosmos' enables visitors to experience a sensory journey through the universe, based on a virtual tour in a 360-degree dome. They can travel through galaxies, dive into the subatomic world of elementary particles, enter the Sun's heart, and observe how the Earth was formed and life began.
Cosmos and the Interactive Tables
One of the highlights of this first immersive experience is 'Cosmic Horizons', a series of six interactive tables in a cup shape measuring 130cm in diameter and 80cm tall. Again fabricated in Corian® in the Nocturne tone, the tables include built-in monitors allowing visitors to interact more deeply with aspects of the universe. The pieces are molded using a vacuum technique and have tops with precise oval cuts. One of the key features of the design is the beveled finishing which allows for the installation of monitors and reading slots.
Tomorrow's Tables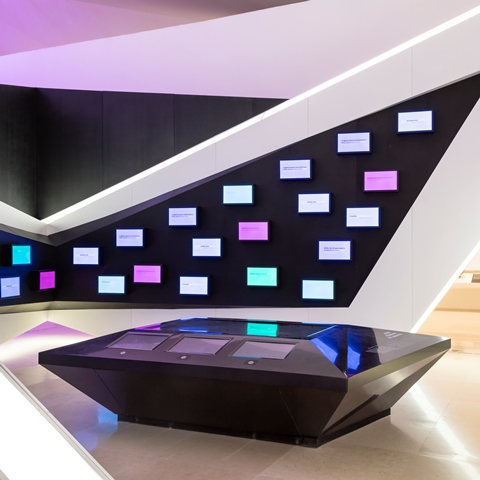 The Tomorrow Tables, made with Corian® in Nocturne colour; photo Andres Otero, all rights reserved.
'Tomorrow's Tables' have been fabricated in a similar way. The three geometrically-shape tables each have different dimensions (400 x 200cm, 300 x 220cm and 330 x 200cm, all 95 cm high). They are the focus of the 'tomorrow' theme which unfolds in an 'origami' shaped area of the Museum. Fabricated completely in Corian®, the 'Tomorrow's Tables' have a metal frame designed to support each element of Corian® and the multiple monitors. These monitors alternate between showing a series of trends and scenarios, and interactive activities that place the visitor as an agent for constructing the future of our world. Achieving this fully customised design was possible thanks to the high tech abilities of Corian®, which offers imperceptible seams, appearing to be a single and continuous piece. With Corian®, it is possible to create designs with real personality: the product is easily adaptable to virtually any format or location, providing complete creative freedom.
Churinga Base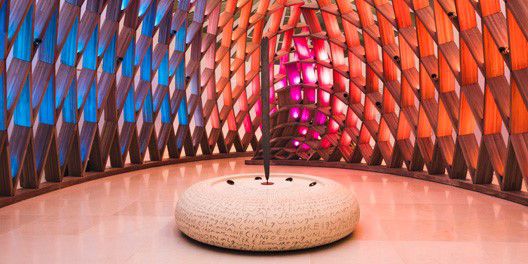 The Churinga base, Made with Corian® in Rice paper colour; photo Andres Otero, all rights reserved.
Located in the 'We' space in the Museum, 'Churinga' invites visitors to reflect on what we will leave for future generations. An Australian aborigine's artifact, the piece is more than an object: it is an endless 'tool' that links the past to the future by tying previous generations' knowledge and legacy to future generations. The Churinga base has a flattened circular design with different radii and angles, and measures 240cm in diameter and 55cm high. It was fabricated in Corian® (Rice Paper colour, available in Brasil) and then treated by artist Mana Bernardes with raw clay painting and handwriting to create a more rustic effect. In addition, floodlights have been embedded which illuminate the 'Oca', with the lighting equipment concealed within the design.
Logo and Service Counters
The service counters, which feature geometric shapes are also made in Corian® (Glacier White colour): they take charge of the Museum's visual communications. More than 400 letters and identification icons have been produced in Corian®. One of the highlights is the main logo, inspired by a 'sticks' game, which is composed of more than 300 pieces of Corian® in Glacier White tone, decorated with eleven different colours of automotive paint.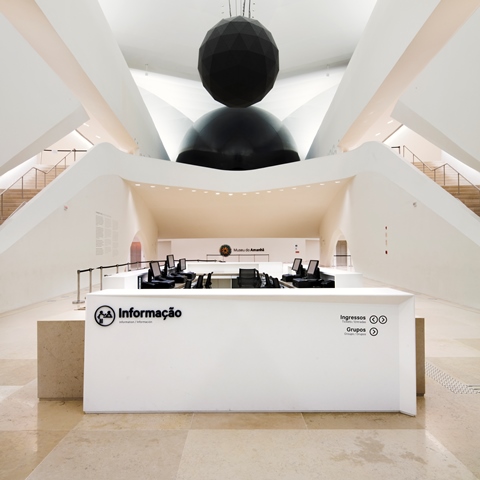 Museu do Amanhã, Rio de Janeiro, Brasil: logo and service counters, made with Corian®; photos Andres Otero, all rights reserved.