February 2019 - Almost two millennia have passed since Mount Vesuvius erupted, burying the ancient Roman city of Pompeii under a carpet of volcanic ash that left the settlement frozen in time. Today, this popular destination, which has earned World Heritage status from Unesco, attracts archeologists and tourists eager to visit a site that offers a window into life in antiquity. Given its popularity – since the city's rediscovery in the 18th century, it has been one of Italy's biggest tourist draws – officials at the Pompeii Archeological Park have looked for ways to preserve the buildings and decorative elements in a manner that respects this remarkable setting.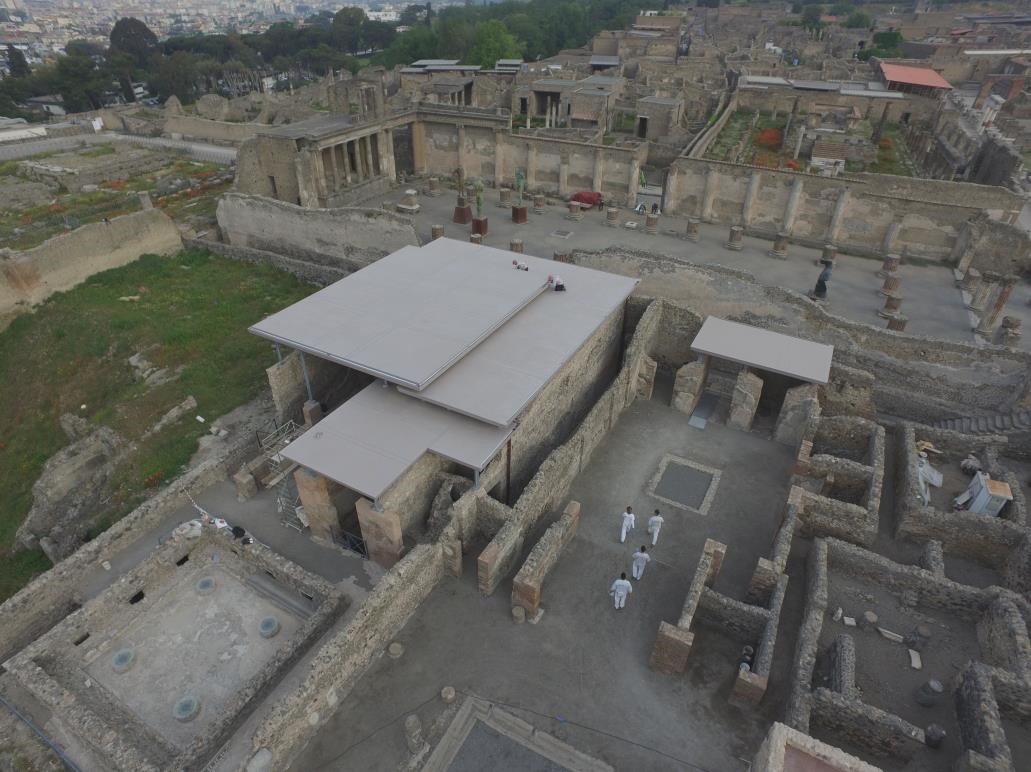 At the Pompeii Archeological Park near Naples in Italy, Corian® Exteriors has been used to create a protective roofing solution for the remains of the Championnet Complex; photo courtesy of Vittorio Pinto Interni.
One striking initiative put forth by administrators in charge of maintaining Pompeii for future generations is a recent effort unveiled to the public in 2017 that involves the Championnet Complex, an area that owes its name to Jean Etienne Championnet, a French general serving under Napoleon and a connoisseur of antiquity who continued the excavation work at Pompeii initiated by the Bourbons.
Located close to the Forum, which was the epicenter of civil, religious and economic life in Pompeii, the site is made up of a collection of stately residential buildings that cover some 4,000 square meters. The homes were part of an exclusive neighborhood in the ancient settlement and boasted scenic terraces offering panoramic views of the Gulf of Naples.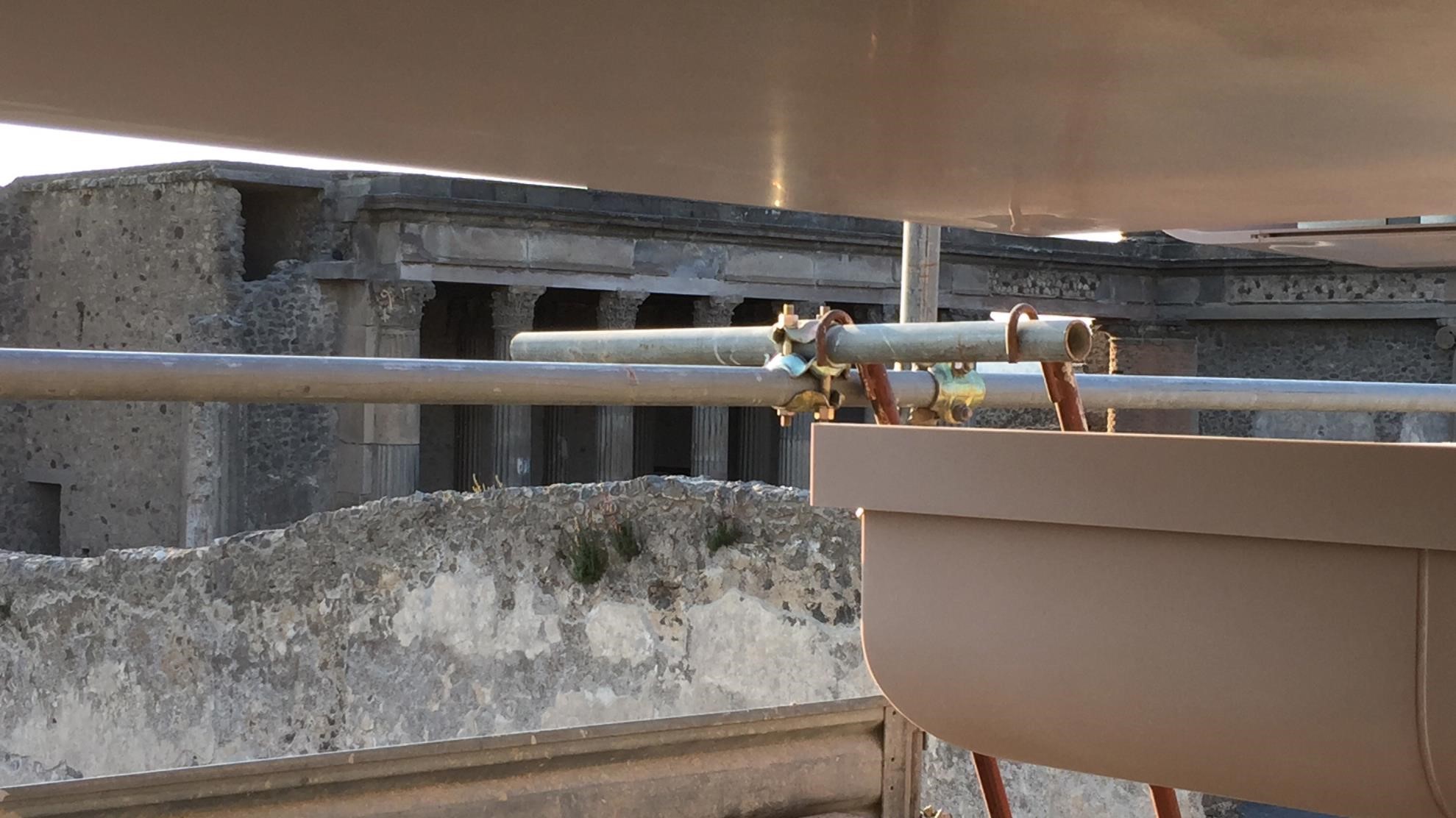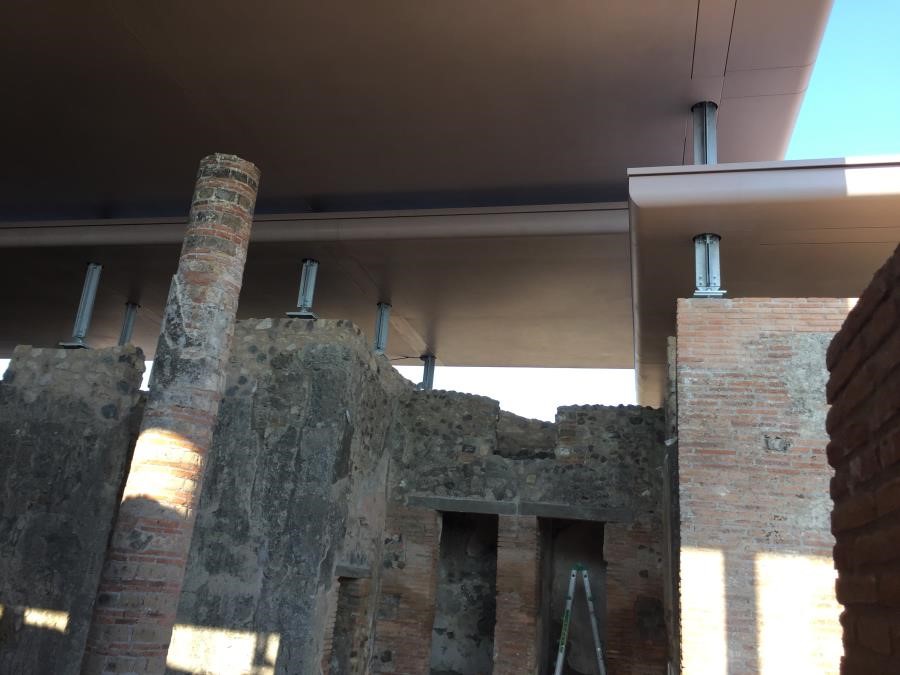 At the Pompeii Archeological Park near Naples in Italy, Corian® Exteriors has been used to create a protective roofing solution for the remains of the Championnet Complex; photo courtesy of Vittorio Pinto Interni.
Within this complex, there are exquisite finds, notably the House of the Sailor, which features an impressive mosaic floor depicting ships moored in a harbor. Built with a double atrium, the residence had a private bath and an extensive underground space dedicated to baking, making it a truly unique discovery since the structure combined elements of a traditional Roman townhouse with a commercial aspect represented by the bakery. Additionally, the complex was home to a colonnaded garden and pond for fish breeding as well as mosaic floors with stunning geometric patterns.
To protect the remains of this extraordinary residential compound from the elements, park administrators opted for an innovative roofing structure using Corian® Exteriors panels based on a Corian® Solid Surface, a material valued by architects, designers and companies from many industries across the globe.Rather than rely on conventional options – wood and glass being popular choices when constructing frameworks to preserve ancient sites and display artifacts – the goal was to erect a covering that was both functional and aesthetically pleasing to the eye.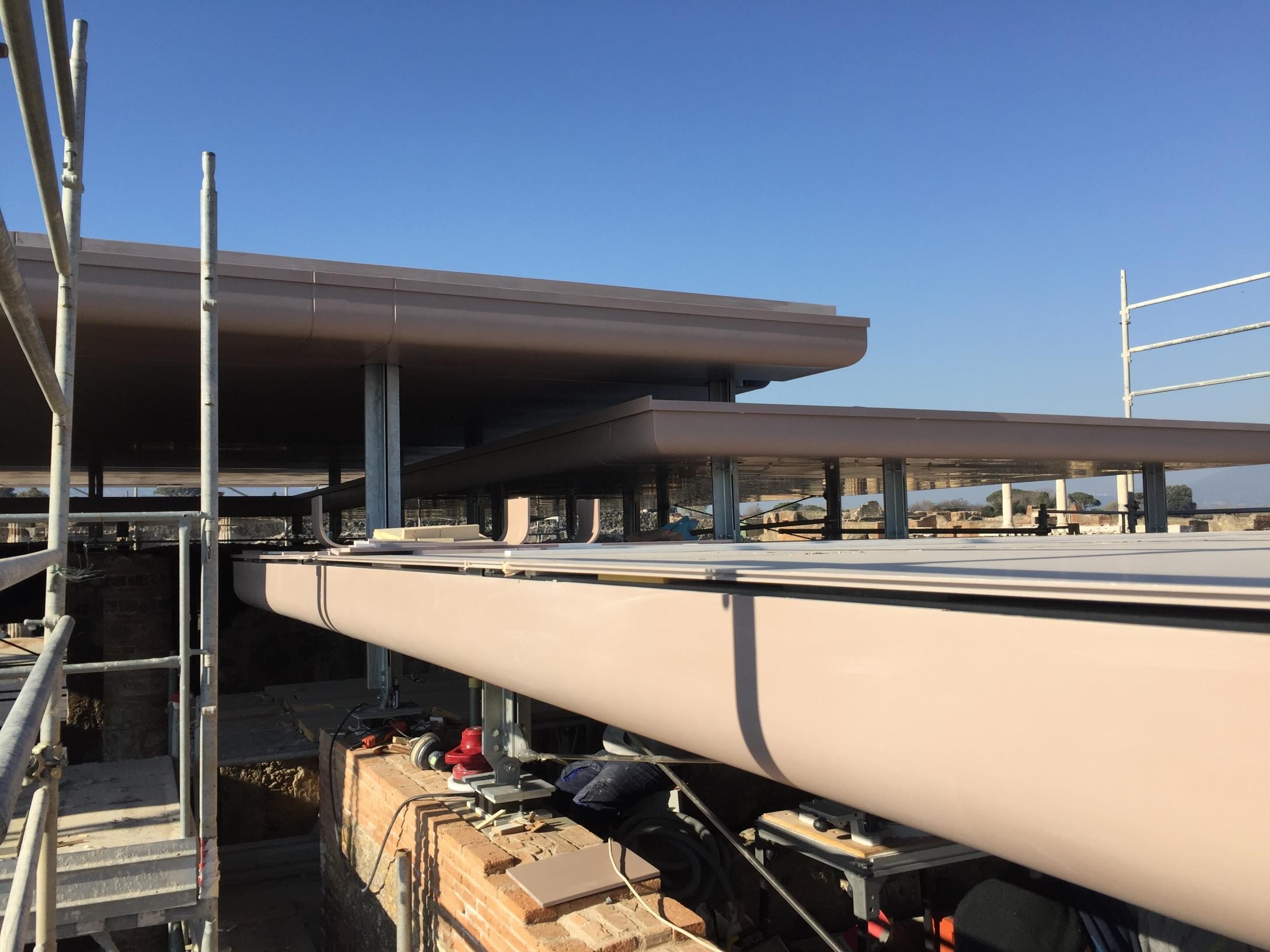 Officials turned to Massimo Pinto, owner of Naples-based Vittorio Pinto Interni and an expert in thermoforming Corian® Solid Surface for interiors, to come up with a custom-made solution. Pinto and his team devised a roof covering in Corian® Exteriors made up of a skeleton in galvanized steel that would be covered by thin panels (12mm in thickness) crafted out of Corian® Solid Surface in the Distinct Tan color. The top of the panels were flat but featured a curved shape underneath. "The aim was to create something quite distinctive to make a statement," explains Pinto. "While the shapes we used are modern, we chose a neutral brown color that blends easily with the masonry from antiquity so as to lessen the impact of using a modern material like Corian® Solid Surface."
Pinto's firm designed Corian® Exteriors coverings to protect the mosaic floors at the Championnet complex from the sun and rain while making sure to not completely enclose them from natural light so that visitors could appreciate the ancient artwork and stonework of walls fashioned out of rocks that include lava, limestone and travertine. Two distinct roofs were made: the first, a simple rectangular shape measuring 20 sqm; the second, a larger covering made of three layers. Each roof was devised with narrow rain gutters on the edges to divert runoff.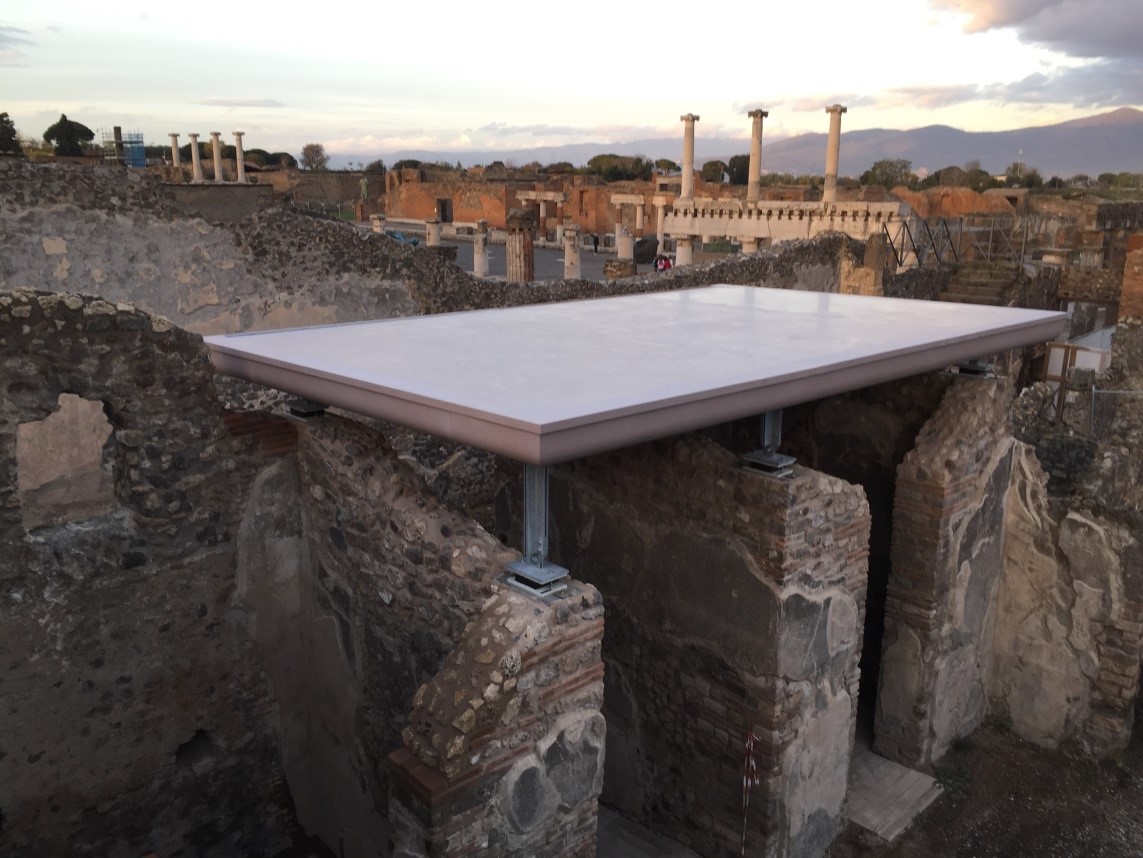 Each covering is anchored to the tops of the reconstructed walls via steel pillars that rest on anti-seismic stabilizers. To the naked eye it appears as if the protective structure is almost floating atop the ruins. The larger roof covering consists of three layers: the top is rectangle in shape, while the interspaced elements beneath are L-shaped and constructed to precisely fit the location in terms of shading and support. "Corian® Solid Surface offers us a material that is relatively lightweight, highly formable and durable enough to withstand inclement weather over the long run. It is perfect for the requirements of the site," adds Pinto. Museum officials agree with Pinto, noting that the innovative structure breaks new ground while not distracting visitors' attention from the main attraction: the rich architectural and cultural heritage of ancient Pompeii.