Terminal 1 of the Václav Havel Airport in Prague opened last year a newly refurbished area to increase passengers´ comfort. The refurbishment is by large based on Corian® chosen for its excellent design and functional properties, successfully demonstrated in high traffic environments such as airports, all around the world, since decades.
When planning the refurbishment, the Airport management cooperated with Libor Fránek, a Czech architect who perceived the final result of the refurbishment as a synergy between human psyche and associations: "To me, an airport is predominantly about space which is a part of the most sophisticated systems and technology used in aviation and aeronautics – that is why I associate it with aerodynamic shapes. I also reflected on the fact that most passengers or those who accompany them to the airport feel rather stressed out for many different reasons. Shapes, materials, colour combinations and lights used subconsciously affect our feelings and psyche. That is why I designed the space not only in respect of its artistic and aesthetic parameters, but I also used aspects of psychology of space."
The signature material of the refurbishment is Corian®, which is very popular for its capacity of being shaped into various forms. For the purposes of the Airport space, architect Fránek combined Corian®, stainless steel and aluminium.
Each part of the refurbished terminal uses a different colour set of Corian®. In the hall, passengers wait and relax thanks to the calming pastel tones, the Customs Authority desk will attract you with its eye-catching combination of blue and yellow and the information stand is hard to miss, too. "Each space here has its special purpose and importance for the passengers. The Infopoint must make people feel welcome. It is where you expect to be helped and its appearance must approve of that function. The relaxation area with the organically shaped seats in matching yet different colour shades reflected in the cast flooring, is calming and relaxing. The Customs Authority desk with its bright colours and distinguished shape clearly defines itself within the relaxation and check-in zones," says architect Fránek, in charge of the project.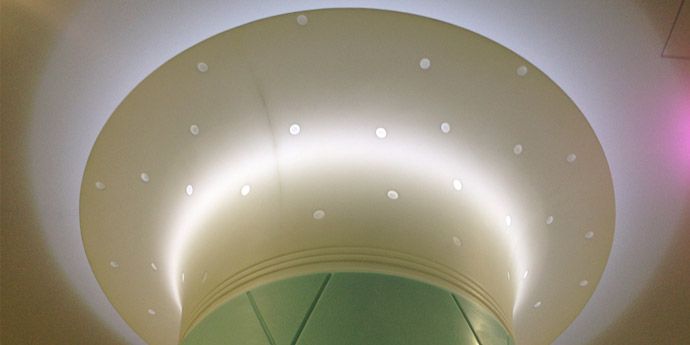 Travellers´ reactions to the refurbished space have been positive. People appreciate primarily the airy and open environment. Contractors are now working on yet another project – a financial centre – which will be a part of the relaxation zone and the Customs Authority space in Terminal 1. Another transfer desk in Terminal 2 is pending. These two refurbishment projects will follow the above defined concept, but their final appearance has not been unveiled yet.
It has to be reminded that Corian® also contributes – thanks to its inherent nature - to the quality of air in indoor environments. Such performance, very interesting for crowded environments like airports, has been tested by US institute GreenGuard® which has assigned its certification to Corian®.