Edward Barber and Jay Osgerby, Project Designers, Barber Osgerby
Fabricator: Evans and Paul
ISSUES
Each year, The International Contemporary Furniture Fair (ICFF) invites top designers to create a smart, stylish meeting space at the show.
The internationally renowned team of Barber and Osgerby chose to fashion a series of long monolithic banquet tables floating over a wash of flight stools with the colour fading across the room.
The designers chose to work with Corian® solid surface because they needed a material that was both durable and had an "intrinsic tactility that could demonstrate quality and our vision."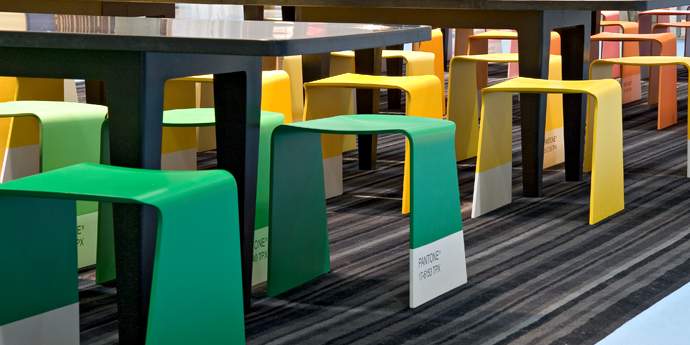 ICFF Elegant & Dramatic Design
Corian® can be carved, sandblasted, etched, thermo-formed and moulded
CHALLENGES
Specifying a material with the ability to be formed into 12-foot long tabletops.
Identifying a versatile material with the depth to withstand the patterned holes placed in the middle of the structure.
Securing a visually inviting material that would enhance the overall design and create a welcoming feel for the gathering space.
SOLUTIONS
Barber and Osgerby chose Corian® because it creates a seamless appearance and can be machined and thermo-formed to create the tables and their uniquely shaped legs.
"Corian has a very substantial feel to it," said Barber. "It's an amazing material that cuts very well and has an amazing finish. There are no corrosion problems, no wear and tear, and you can just sand it down if it scratches."
BENEFITS
Corian® is an extremely versatile, flexible surface that can be easily thermo-formed, backlit or seamed to meet the requirements of intricate custom designs.
Corian® resists chips, cracks, stains and is a renewable material because marks can be removed easily to restore it to its original condition.
Offering elegant and dramatic material flexibility outside traditional horizontal surfaces, Corian® can be carved, sandblasted, etched, thermo-formed and moulded turning exhilarating visions for design and architecture into reality.
Corian® is available in a wide range of colours and aesthetics.