In 2014 the Odakyu Electric Railway started renovating its Central Passageway and the area near its West Underground Gate at Shinjuku Station. In December 2017, it completed the restroom renovations that are inside the gate. Together with the already renovated gate, this area is now brighter and more convenient.
Mr. Saneaki Tachiyama of Odakyu Electric Railway said, "This is the Odakyu Line's largest station, patronized by an average of about 500,000 passengers per day. We wanted to make this into a suitable landmark space for our largest station that is also the gateway to Hakone and Enoshima."
Stripes, round shapes (evoking an image of wave foam) and mosaic-style patterns decorate the glass walls located in places such as between the restrooms and ticket gates. This expresses the urban impression of Shinjuku and creates excitement about the sightseeing areas that are connected to this line.
The entire space, including the restroom interiors, has a round design that creates a soft impression. The rounded, U-shaped counter at the gate's center is made of Corian® Solid Surface.
Fujita, a general construction company, was in charge of the gate area design, supervision, and construction. Ms. Sayuri Suzuki of Fujita said, "We chose Corian® Solid Surface for the counter because it can be beautifully rounded. Using the unique features of Corian® Solid Surface, we were able to create a long counter (roughly seven meters on one side) with no seams.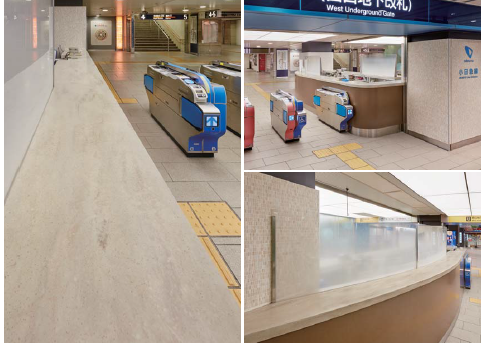 The rounded, U-shaped counter at the gate's center is made of Corian® Solid Surface. Photo by Kenjiro Yoshimi, from BAUHAUS Studio
Since many passengers travel with luggage, we selected a patterned, deep color for the side that doesn't show much damage or dirt. The ceiling above the counter is illuminated, so we chose a subdued white shade for the countertop that reflects light beautifully to create a bright space." There were many size-related limitations, including the need to install a set number of ticket gates in the existing space. Another reason Corian® Solid Surface was selected was that it requires a narrower foundation compared to natural stone and other materials.
The super-comfortable restrooms inside the gate also has many people talking—they are twice as large, with a range of functionality including nursing rooms, powder rooms, and information displays. Corian® Solid Surface is used in these restrooms as well. According to the GONDLA ARCHITECTS OFFICE, which designed the restrooms, "Because these station restrooms are used by a wide range of people, we decided on Corian® Solid Surface for this area with plumbing because of its durability, water resistance, fabrication qualities, and excellent resiliency that means this material can be kept hygienic through constant cleaning. The restrooms are enclosed by hard materials, so I think this matte, gentle material sense adds a peaceful touch."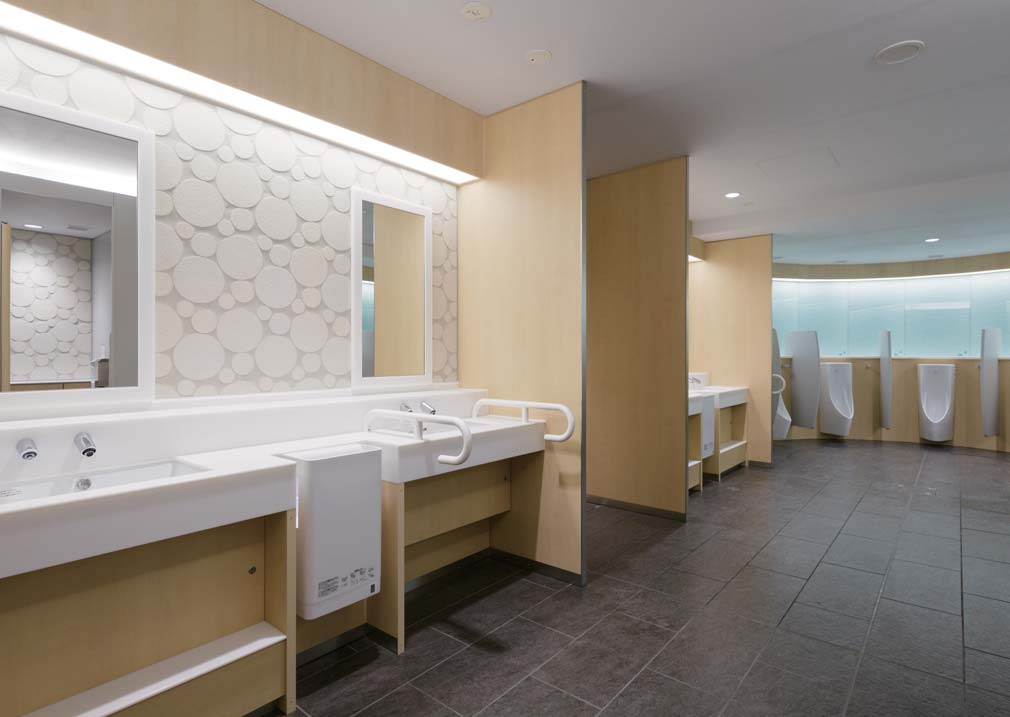 The men's and women's restrooms are both spacious areas with round designs and woody materials to make them places of momentary relaxation in the bustling station. Employing universal design, they are always decorated with seasonal, fresh flowers and scented with natural oils. Corian® Solid Surface Glasa White is used for the sink counters and powder room counters, as well as the linings behind the men's urinals. Corian® Solid Surface Glacier White is utilized for the linings above the Western
Mr. Tachiyama said, "Our company has been working on remodeling station restrooms for over ten years to make them more comfortable and improve our corporate image. This was a huge success at Shinjuku Station, and I think these restrooms will become a model to follow."
More information about Odakyu Electric Railway's Shinjuku Station West Underground Gate and restrooms:
● Colors used (from left): Corian® Solid Suraface Rain Cloud, Glasa White, Glacier White, etc.
● Venue: Tokyo, Japan
● Design (gate area): Fujita Corporation, 1st Class Architecture Firm
● Design (restroom): GONDLA ARCHITECTS OFFICE
● Construction: Fujita Corporation
● Construction cooperation: Shin-Etsu Finetech Co.,Ltd.
● Fabricator (gate area) : Sakamoto Co., Ltd.
● Fabricator (restroom): Dainichi Kasei Co., Ltd.