TIVOLI, a pioneer in cookie assortments for gift-giving, remodeled its Yugawara factory in November 2017 to become a "sweets factory that is enjoyed with all five senses," that also includes a store to purchase the sweets. TIVOLI Yugawara Sweets Factory Manager, Mr. Hirotake Oki said, "With the image of a 'sweets roadside station', that is also our first retail shop, we can directly see how our customers react. We also developed local sweets made with Yugawara mandarin oranges and Kataura lemons for the re-opening."
The store was designed by Ms. Atsuko Wachi of wachinet, who said, "TIVOLI wanted to provide a space where locals and tourists can stop by, including a sweets workshop, cafe, and hands-on areas. I thought about how to add this wide range of elements into the limited floor space." She was inspired by the image of the fountain in Tivoli, Italy, which the company is named after, and suggested the concept of a sweets market surrounding a round plaza. "I wanted to put a three-dimensional object depicting the TIVOLI logo in the center," she added. Ms. Wachi took her idea to Mr. Shinichi Ishiwata of Ishiwata Industry, who was in charge of the store construction. He stated, "Ms. Wachi told me she wanted to use a white color that would evoke the ingredients used to make sweets, with a dignity that is appropriate for an object placed in the center. That's why I suggested Corian® as a good option." "It's hygienic, with a feel equal to natural materials and a gorgeous look. Because it changes little over time, it was also a perfect choice for the symbol that will remain in the same location for many years," he added.
They brought in Mr. Harunobu Enomoto of Apex, who has experience fabricating Corian® pieces, and the three started working on how to make their vision a reality. They considered many different ways to find a balance between design, cost, and strength. In the end, they chose the method suggested by Mr. Enomoto of stacking 30 to 40 donut-shaped Corian® parts. "We judged that this composition was best because the object might be taken apart and moved after installation, and also in consideration of safety," he said.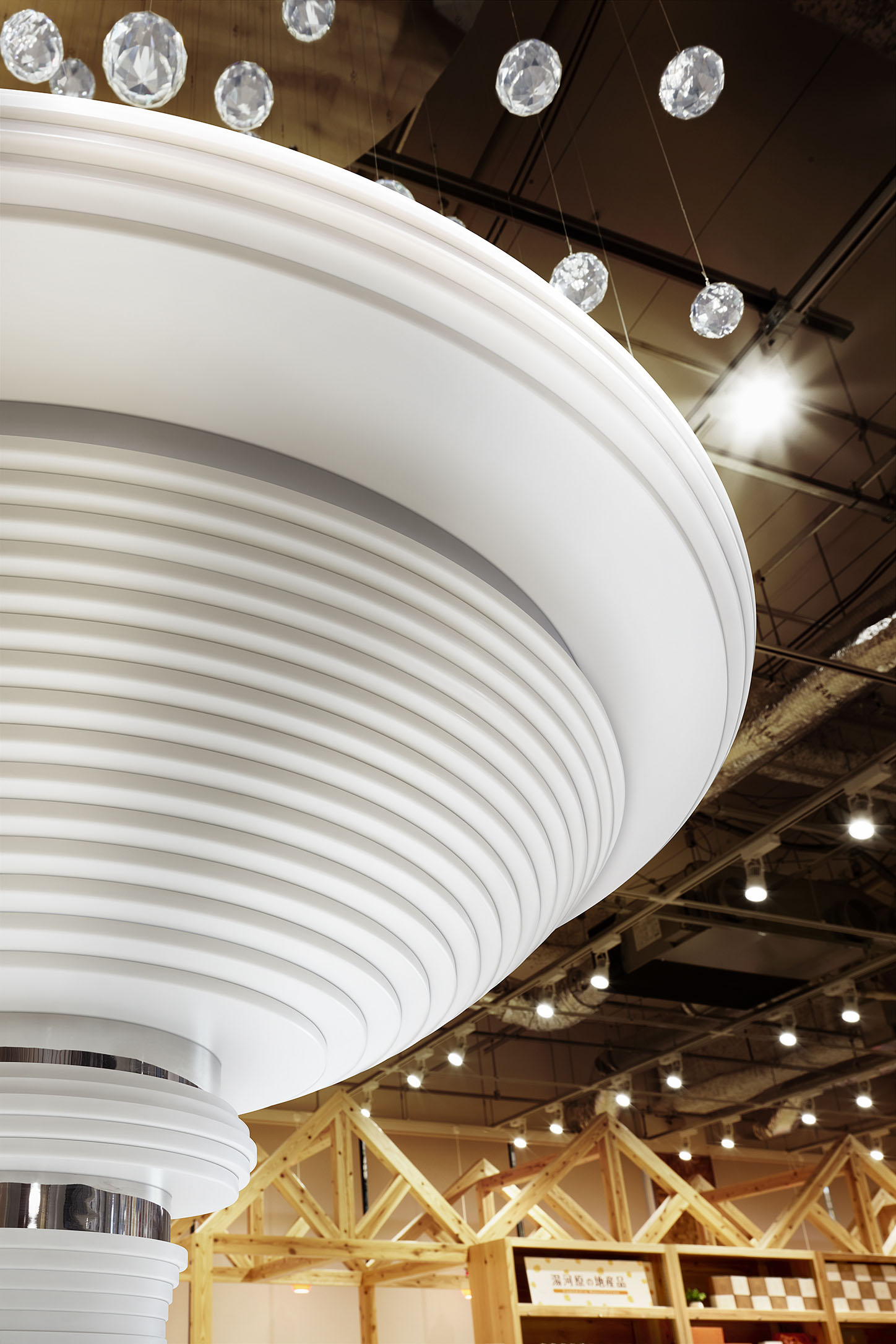 The symbol of a confectionary plaza perfumed with a sweet, happy aroma; Photo Yoshihito Imaeda
The fountain piece has a beautiful, refined appearance that resembles sugary sweets or meringue. It will become a symbol that will continue to look great over the years, symbolizing the happy smiles inspired by the delicious treats made in the sweetly scented facility.
More information about TIVOLI Yugawara Sweets Factory
Submitter: Kanoko Ishida
Corian® Color(s): Corian® Cameo White
Applications: Factory
Design By: Ms. Atsuko Wachi, wachinet
Construction: Ishiwata Industry Co., Ltd.
Fabricator: Apex Co., Ltd.