Having worked with the versatility and performance properties of the material on previous projects for the international chain, Scott Ryalls of Fuse has specified Corian® high-tech surface once again, this time for the renovation of the busy Hard Rock Cafe in the heart of Barcelona.
Taking inspiration from high-end nautical design, Leeds based design studio Fuse has renovated a popular nightlife destination in the Hard Rock Cafe group with a fresh new look. Among the high-spec solutions for the refit, Corian® features prominently on several service counters in the revamped venue in Barcelona. The material also forms the rear panel of the stage area, where its famed ability to be shaped as desired via thermoforming creates a new visual focal point, in a sleek, easy-care finish destined to perform for the long term.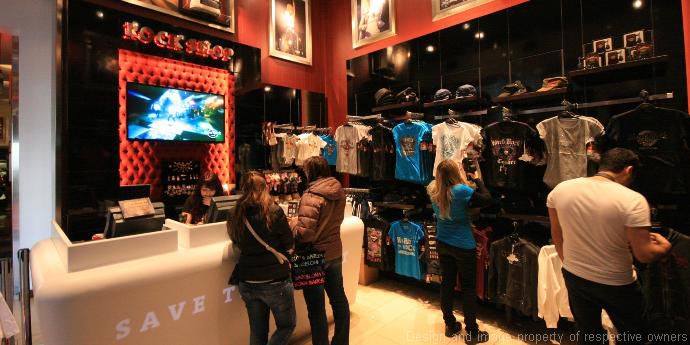 Back-lit counters made from Corian® at the Hard Rock Cafe Barcelona. Photos courtesy of Fuse and Hard Rock Cafe, all rights reserved.
Corian® lends itself beautifully to intelligent customisation, offering virtually unlimited creative freedom, employed here by Fuse to execute a high-profile project with optimum impact, and functionality. According to interior architect Scott Ryalls, "the concept for the restaurant interior was to emulate the look of a luxury yacht – and the capability of Corian® to provide seamless, curved surfaces and a crisp, almost futuristic finish was a deciding factor in its selection."
Furthermore, the malleable nature of Corian® allows for CNC routing to the reverse of the material and for LED illumination of the brand's logo through the surface of the screen, as well as the illumination of iconic 'mantras' such as "Love All, Serve all" and "Save the Planet" within the service counters. Ryalls continues, "Our specification of Corian® was reinforced by this subtle backlighting capability. At night the lighting to the logo behind the stage is turned off and the surface is used as a video projection screen. Corian® has enabled this multifunctional aesthetic versatility without any compromise to the design, on the contrary, the whole effect is enhanced."
The monolithic and gently curved service counters, made from Corian® in pure Designer White, appear to have been sculpted out of a single piece of the material, forming an inviting yet pleasingly robust installation that will be easy to maintain and will stand up to the high traffic use demanded of such a busy location. The combination of advanced lighting technology together with the seamlessly organically shapes achieved by Corian® high-tech surface work beautifully in contrast with the dark wood tones and deep red finishes elsewhere in the scheme to create a striking new image for the venue that is very much in tune with the times.