When the NHS Chesterfield Royal Hospital commissioned a separate and dedicated cancer outpatient facility, the brief to architects The Manser Practice was to create a comfortable, modern and welcoming clinical environment in which the design would contribute to the therapeutic ambience of the space.
The facility's calm, non-clinical environment has been recognised by the RIBA East Midlands Awards, with the project beating competition from architectural schemes from across the region to take the prestigious accolade of RIBA East Midlands Building of the Year 2018.
The judges commented on the use of "white Corian® cladding which creates a building of great elegance and reinforces the sense of quality. The contrast of the white Corian® panels with the carefully selected planting scheme is a truly uplifting place to be, for patients, visitors and staff alike."
The new £10 million NGS MacMillan Unit (partially funded by the charity) offers an optimum range of treatment, testing and care facilities over two storeys, and features an impressive ventilated façade made from Corian® – the versatile and sophisticated design surface that is increasingly specified for the exterior skin of buildings
Discussing the benefits of Corian® for cladding, Guy Barlow, the project architect says, "The use of Corian® internally in buildings is well known in various forms, from work surfaces, to joinery cladding and even lighting. On this project it was selected for a number of reasons. Corian® is one of a very small palette of materials used on the project, and it makes an elegant link to both internal and external spaces. Technically, it can be thermoformed and jointed, allowing curves to be introduced and corners mitred. A further advantage is the ability to laser cut artwork for areas such as the vent panels and the detailing of the louvres, while its subtle translucency lends a softness, particularly at night when light falls across it. It is also a hygienic material that is easy to clean and maintain."
The Corian® façade creates a lasting first impression as it greets staff and visitors at the unit. This incredible material combines smooth aesthetics with long term performance features. It is completely homogeneous and non-porous, easy to clean and maintain. It is also fire rated, resistant to graffiti, UV and climatic conditions.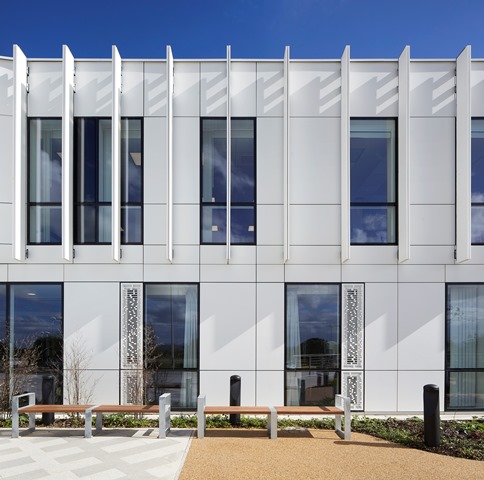 The façade was created by expert Corian® Industrial Partners, Unique Fabrications. MD Greg Beaver explains, "The system uses an open visible joint with a black breather membrane behind. We worked closely with The Manser Practice, and Corian® distributors CDUK, on CAD drawings and a mock-up, and to reassure with all key safety and fire rating certifications from standard testing. The façade design includes custom firebreaks to cavity walls. Over 1,000 square metres of Corian® in a 12mm thickness in Glacier White was applied. This featured perforated panels to the windows and large radius panels thermoformed to the precise shapes required, plus external fins, also clad in Corian®. The fabrication and installation using Kiel fixings took three months."
The new centre opened officially on September 22nd, 2017 and can now serve the area's oncology patients in a much more efficient, localised and sensitive way, tripling the hospital's previous capacity. The building offers facilities for Haematology, Oncology, Acute Oncology service, Chemotherapy, selected Medical Day Case activity, Palliative Care and Respiratory Clinics and support services, all in one attractive and superbly equipped place.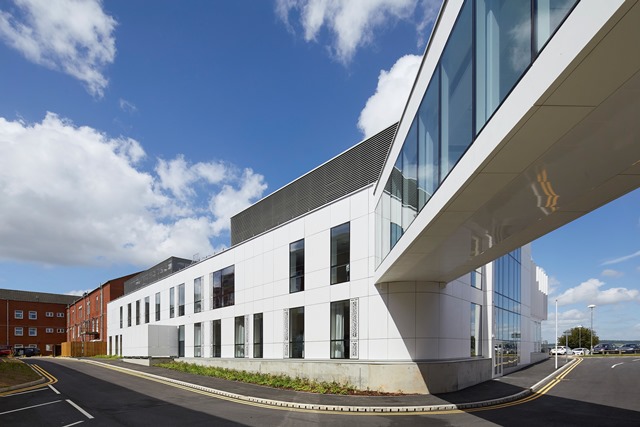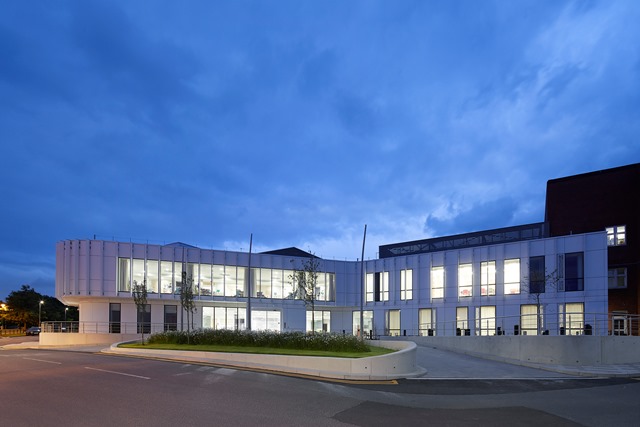 "The team are delighted with the results and the building looks fantastic inside and out. Having a pristine exterior that is also easy to maintain, and even repair if needed, will help to keep the new building looking clean and fresh."
Simon Towers, Communications Advisor for the Chesterfield Royal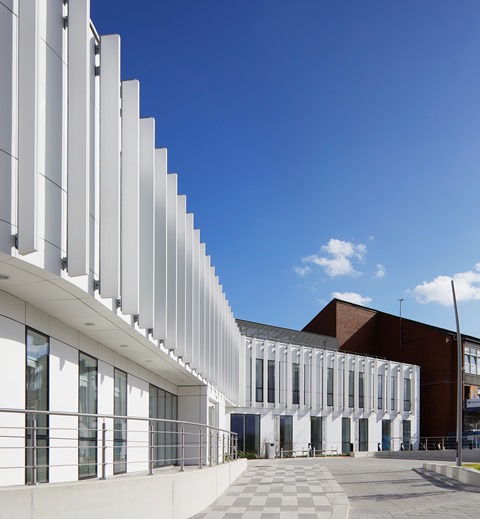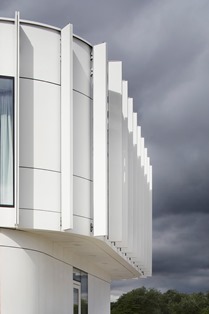 Corian® for Exterior Cladding and Façades: Corian® is a highly valued solution for façade applications due to both its aesthetic versatility and long-term performance. Completely homogenous and non-porous, it is easy to clean and maintain. It is also fire rated, resistant to graffiti, UV and climatic conditions – and, should any damage occur – the material is repairable. Corian® is compatible with a 'secret' fix undercut anchor system and its lightweight, workable properties are a further benefit to both fabrication and installation.
Corian® also offers the broadest range of international certification for façade applications among solid surfaces and has passed a series of fundamental tests for its application to the exterior of buildings. These include freeze/thaw cycling resistance, standards proving the material's resistance to exterior environmental substances, fire performance tests, and tests for abuse resistance. Further information and certificates are available on request from DuPont.
In the UK, Corian® sponsors a RIBA approved CPD seminar on Solid Surfaces for Rainscreen Facades. To book this CPD seminar please call: 0800 962 116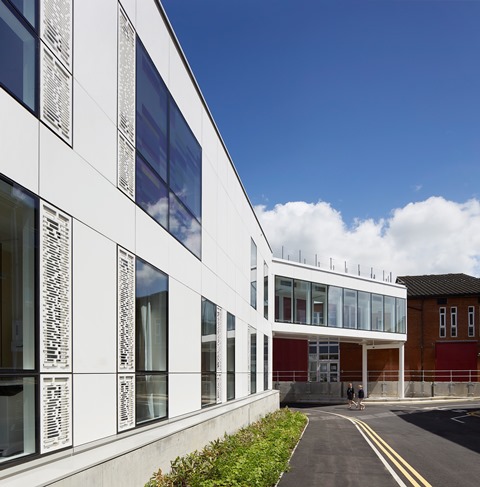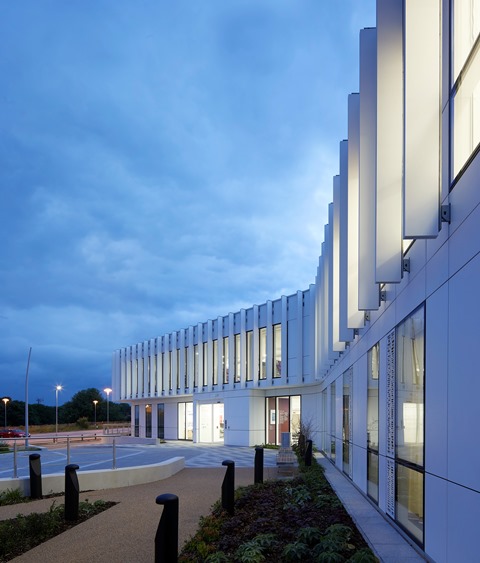 All photography: Copyright Allan Crow, Hufton & Crow
Awarded RIBA East Midlands Award 2018, RIBA East Midlands Client of the Year 2018 - sponsored by Tobermore, RIBA East Midlands Project Architect of the Year 2018 - sponsored by Taylor Maxwell for Guy Barlow, RIBA East Midlands Building of the Year 2018 - sponsored by Artifice Press.