The perfect fit throughout a hospital C-line worktops made exclusively from Corian® Solid Surface were used extensively in the fit out for the new public hospital in Metz, France.
The C-line laboratory bench were fabricated by Créa Diff usion in France. C-line worktops were installed in three distinct areas of the Hospital:
The General Hospital – including nurses' stations, dispensary worktops, medical staff washing areas, staff tea rooms, pharmacy areas, dialysis wards, pneumology wards, oncology wards, ultrasound wards and decontamination units;
Maternity Unit; and
Research Laboratories.
Why was C-line used?
The hospital was looking for a low cost solution without compromising on quality. They also needed installation to fit in with the very tight deadlines that the hospital had for completing the overall build programme.
C-line worktops have all the features of Corian® Solid Surface, such as being non-porous, and are therefore extremely hygienic.
In addition, an elegant 100 mm coved upstand combined with a practical anti-drip front edge make C-line the perfect choice for the healthcare environment.
As they are made of Corian® Solid Surface, C-line worktops can still be tailored to meet all the demands of a building project. Adding basins, cut-outs for piping, and corner units are all easily achievable without compromising on the cost-eff ectiveness of the solution.
Because when they use C-line, trade professionnals save up to 70% of the time normally involved in making similar solid surface worktops, Créa Diff usion were able to secure the project by being both cost effective and ensuring that they would be able to keep within the timetable required by the main contractor.
Features and benefits of C-line
No joints and glue lines on the upstand and downturn
Increased strength and resistance compared to standard 12 mm solid surface worktops
Does not need a ladder frame support as with standard 12 mm solid surface worktops
Up to 1.5 m spans can be unsupported.
The Metz Hospital used the following amounts of C-line worktops

Approximately 850no. sheets of Corian® Solid Surface were used on the whole project.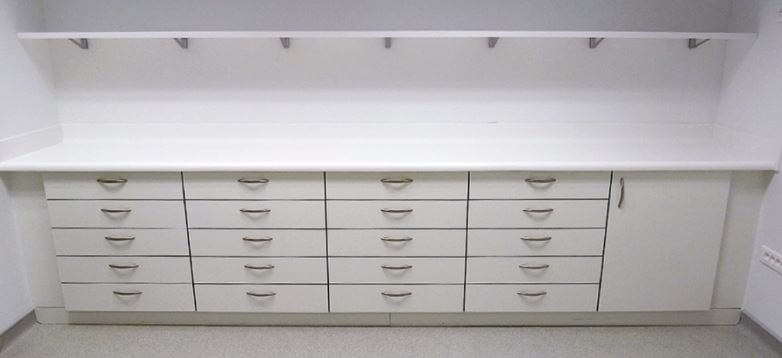 Pharmacy dispensing unit, 3450 x 650 mm.