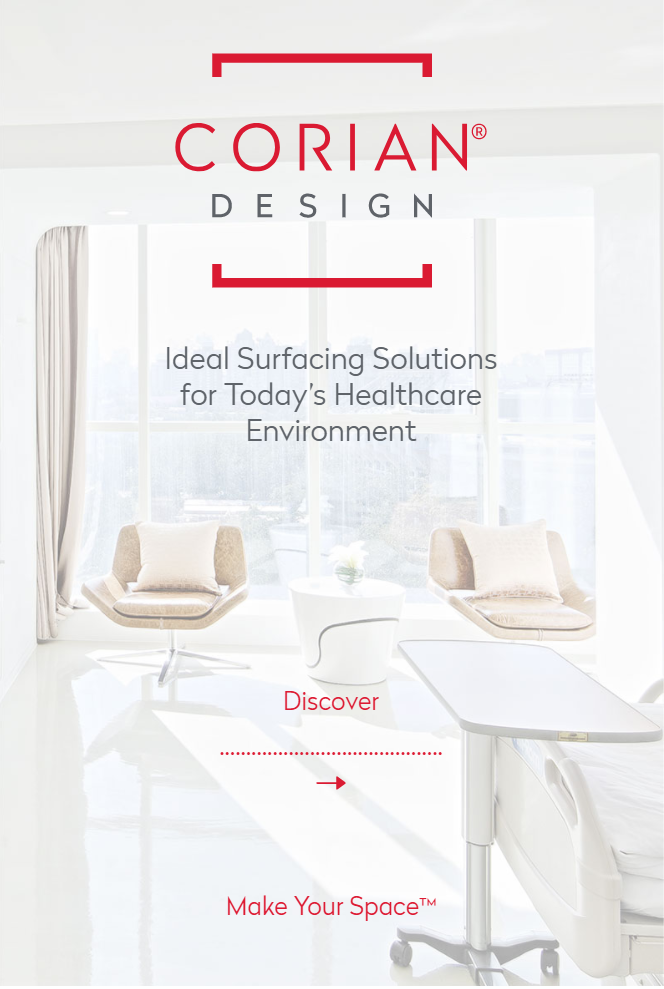 The nonporous certified hygienic properties of Corian® solid surface material can help healthcare architects and designers create spaces that, with proper cleaning, fit the needs of their installations.
Meets and exceeds healthcare design standards
Corian® solid surface meets the high expectations of the most demanding healthcare design environments. With unlimited potential for surfaces in public spaces, operating room walls, scrub rooms, showers basins and baseboards, Corian® is:
Easy to clean and maintain. When properly cleaned, Corian® does not support the growth of mould and mildew.
LGA certified for hygienic properties (stability against bacteria and fungi according to European standard DIN EN ISO 846).
A nonporous surface with a smooth, seamless appearance.
Extremely durable and long-lasting, standing up to hard knocks in high-traffic environments that can easily damage other surfaces, such as drywall and laminate.
Easily renewed and repaired.
Flexible and versatile.
GREENGUARD Certified® as low VOC-emitting material
Stain resistant
Slip resistant
Extensive colour choice available, others on demand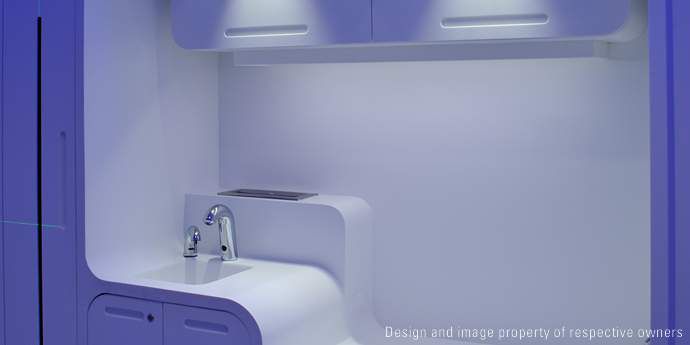 University of CA, Irvine Imaging Center, Casework and horizontal worktops, Corian® Glacier White has been paired with Philips Ambient Experience lighting. Baumgartfoto/Sterling Surfaces
A walk through the hospital
The unique structure of Corian® makes it the ideal choice for the design of healthcare settings.
Corian® creates an inviting aesthetic for lobby and reception areas.
Because of its high durability, Corian® helps corridors withstand frequent contact with patient beds, wheelchairs and medical equipment.
Public cloakrooms benefit from the nonporous surface of Corian® that's both easy to clean and renew.
Corian® can be easily shaped and thermoformed to create special cafeteria and food service areas.
Operating rooms designed with Corian® surfaces resist common stains such as blood, betadine and Gentian's violet.
Exterior cladding with Corian® means less maintenance thanks to excellent weather and extreme temperature resistance.
Using Corian® in patient rooms makes it easy to achieve an aesthetically pleasing design that gives patients confidence in cleanliness and attention to their care.
The design flexibility of the material makes it easy to create nurses' stationsthat are organised and functional.
Corian® comes in many fun and vibrant colors to help stimulate early childhood development in neonatal and paediatric areas.
The certified hygienic properties of Corian® make it ideal for testing areas and labs.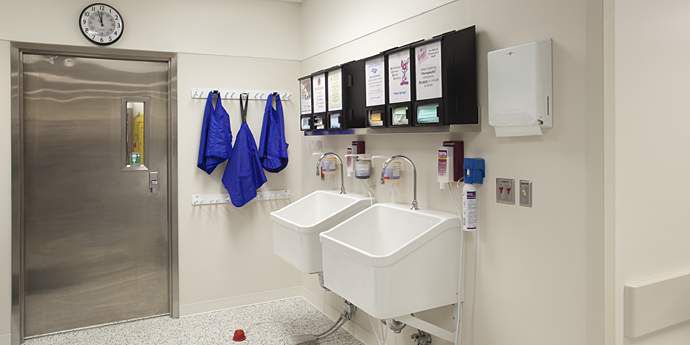 East Texas Medical Center, Corian® Interior Wall Surfacing
Healthcare Design and DuPont Innovation
DuPont is working with today's leading healthcare architects and designers to better meet the physical and emotional needs of patients, family, and staff through building design.
Take our virtual hospital tour and see how DuPont materials are making healthcare spaces better places for medical staff, patients, and their families.
Discover Patient Room 2020 at the New York Corian® Design Studio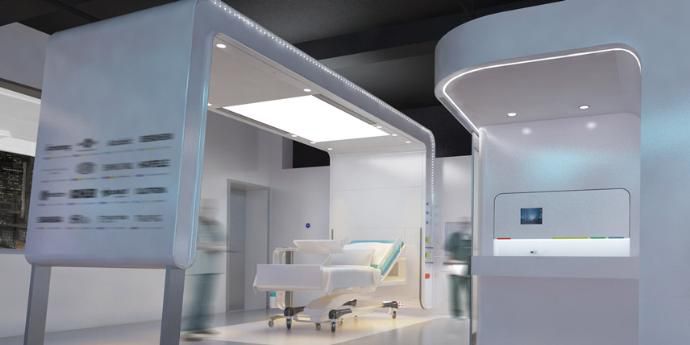 Patient Room 2020 is a collaborative design for a next-generation inpatient care environment that strives to improve patient experiences and optimize caregiver performance.
Corian® solid surface was selected as the predominant material used throughout the project because it is nonporous and when properly cleaned, does not support the growth of mold, mildew and bacteria. The use of Corian® solid surface was optimized through innovative architectural casework and fixture details developed by fabricator Evans & Paul, including:
Clean-cove wall base detail that provides a seamless transition from solid surface walls to the floor
Cove details throughout casework design to minimize corners
Integrated transitions between the walls and the grab bars to eliminate escutcheon plates
ADA-compliant vanity with an integrated grab-bar
Flush shower pan with an Infinity Drain threshold
Countertop with embedded Cleankeys® smooth top keyboard
Flush wall outlets and technology with TRUFIG mounting kits, including medical gas, electrical, switches and digital interfaces
Anti-microbial fabric solutions that eliminate germs on contact, such as Milliken Biosmart®, were used to combat bacteria growth on soft surfaces