July 2020 - The new Maison Albar Hotels Le Vendôme has just opened its doors in the heart of Paris, in the 9th district. Located at 5 rue du Helder, near the Opéra Garnier, this 5-star hotel has replaced an office building. The construction belongs to the Paris Inn Group and has been entirely redesigned by the Parisian agency Atelier Cos to create an architectural combination of comfort and quality reception. New ventilated facades made in pure white Corian® (Glacier White) have been added. This innovative solution for exterior cladding, appreciated for its ease of maintenance and durability, provides visual harmony and a contemporary look to the building.
To preserve the legacy of the old mansion on Rue du Helder, the architects of Atelier Cos maintained and restored the 19th century buildings and the wooden facade. Two new extensions were added to complete the architectural project. The first allows to extend the building on Rue du Helder and the second creates a connection between the two existing buildings. The new U-shaped configuration has made it possible to enlarge the premises to better accommodate clients and create an attractive interior garden in the central patio.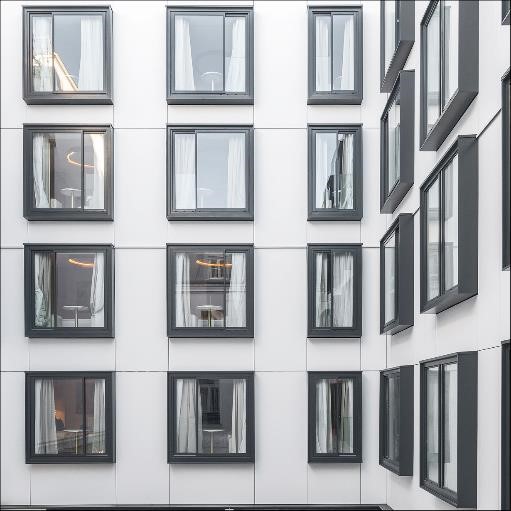 Hôtel Maison Albar Hotels Le Vendôme (Paris, 9th district) featuring a facade made of Corian® Exteriors. Project by Atelier Cos; photo Kamel Khalfi, all rights reserved.
The new exteriors overlooking the garden are clad with Corian® Exteriors panels, a solution based on Corian® Solid Surface, creating a ventilated facade with open joints and a contemporary aesthetic solution. The modern and elegant look of Maison Albar Hotels Le Vendôme is based on its two-toned façade, designed like a chess board. Oriel windows with black frames protrude from the facade and contrast the pure white of the Corian® Exteriors panels. The large windows provide all the bedrooms with more natural light and increased interior space.
For the installation of the Corian® Exteriors panels, Atelier Cos agency used the 'Façade F4' system of the Saint Gobain group, developed for the construction and renovation of very high performance facades. The system consists of a metal structure designed with custom brackets fixed directly onto each floor slab which holds vertical profiles. Thanks to this substructure Corian® Exteriors cladding panels are positioned very precisely. The combination of the F4 Facade solution and the Corian® Exteriors panels creates a ventilated facade with an exceptional thermal and acoustic performance while also ensuring air and water tightness. This solution has also received the French Avis Technique that certifies the building performance. The facades in Corian® Exteriors ensure the owners of the hotel peace of mind for their easy cleaning and their extremely durable aesthetic and functional qualities.
"Corian® is a versatile material that lends itself to interior design and facades. For this specific renovation and construction project, we chose it due to its easy implementation and aesthetic appearance. We were able to build a distinctive facade with a luxurious look, in perfect harmony with the high-end offer of the Maison Albar Hotels Le Vendôme," says architect Fariza Mariano, Project Director for Atelier Cos.
The Corian® Exteriors panels were manufactured by Créa Diffusion, a member of the Corian® Quality Network, and the cladding was applied by the company Sietech, that specializes in facades.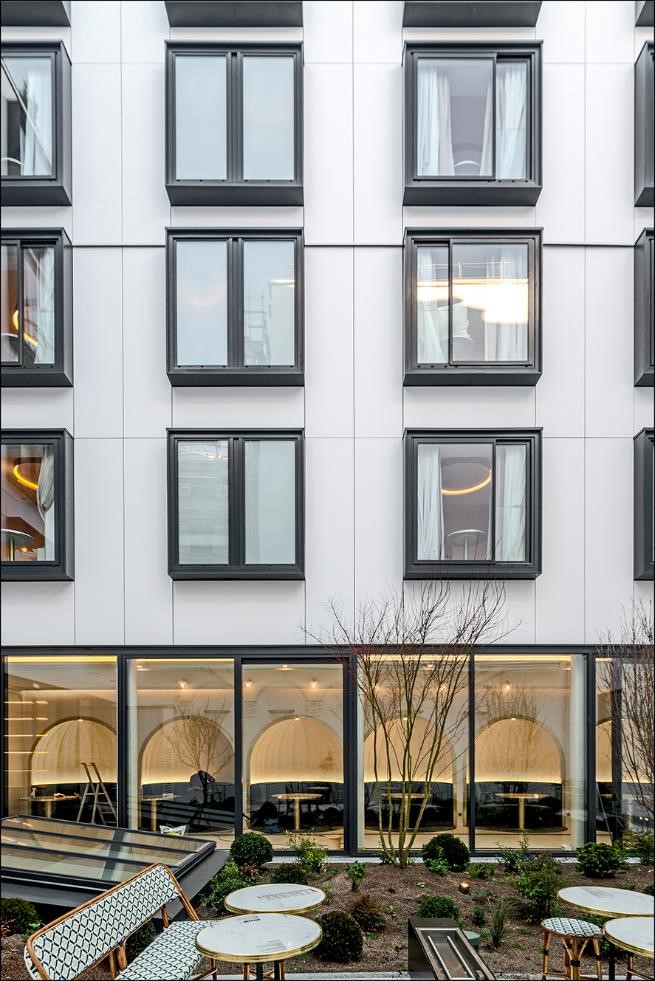 Hôtel Maison Albar Hotels Le Vendôme (Paris, 9th district) featuring a facade made of Corian® Exteriors. Project by Atelier Cos; photo Kamel Khalfi, all rights reserved.
About Atelier Cos (www.ateliercos.com) - Atelier Cos is an architecture agency, a design studio and a consulting firm specializing in high-end hotels and residences; its expertise also extends to shops, restaurants and office buildings. Among some its accomplishments in the field of luxury are the complete renovation of the Ritz Paris and the realization of the Cheval Blanc house in Courchevel. Atelier Cos works in France and abroad, where it carries out more than a third of its activity.
About Paris Inn Group (www.paris-inn-group.com) - Since being founded in 2005, the Paris Inn Group has experienced major changes and a sharp increase in its hotel portfolio, to date totaling 35 3, 4 and 5 star hotels. 2014 marked a turning point in the development of the Paris Inn Group, with the creation of the international brand Maison Albar Hotels. The leading Franco-Chinese luxury hotel brand is the result of a Joint Venture between the Paris Inn Group and Plateno Group, one of the leaders in the Chinese hotel industry. This new international brand brings together 5-star boutique hotels with a design, intimate and personal atmosphere, a showcase of French elegance. The objective for Maison Albar Hotels is to open 50 hotels in the next 3 years and 150 by 2025-2030.
About Façade F4 (https://www.facadef4.fr/) - The façade solution F4 is a system composed of splited insulation (int/ext), integrating air and water tightness, that allows to produce efficient and economical facade walls for RT 2012, E + C-, Bepos buildings and HQE, both new buildings and renovation. The implementation of the Façade F4 solution combines traditional know-how mastered by companies. It is broken down into two identified parts: a facade part (external) and a drywall lot (gypsum + insulation, for interior). Its installation is quick and easy because all the profiles and headers are customized to fit perfectly to the project, so there is no cutting on site.
Beauty Meets Versatility with Corian® Exteriors - Corian® Exteriors solutions based on Corian® Solid Surface brings personality to virtually any type of environment, enhancing and facilitating the lives of those who use and enjoy its unique potential. It can be crafted into almost any shape, for any place, for any purpose, and is available in a wide range of colors, offering you the freedom to design, explore, and create. Long-lasting, durable, and elegant, Corian® Exteriors solutions, such as cladding panels, have a three-dimensional formability that has been liberating inventive and artistic minds for over 40 years.
To know more about Corian® Exteriors: http:// www.exteriors.corian.com