Celebrated British interior designer and architect Ashley Hicks has made a name for himself with his intricate patterns and ability to blend classical and contemporary styles.
How would you define your interior design style?
My main aim is "atmosphere" – I make spaces that are strongly
personal, combining traditional techniques with a modern
sensibility, giving a feeling of warmth, comfort and style without
being obviously of one era or another.
I want rooms to look relaxed and friendly, but beautiful, with an
edge of mystery to them, so that the eye is always curious, always
intrigued. If you can walk into a room and understand it at a glance,
why stay?

Where do you find inspiration for your interiors?
I find great inspiration from the past in a rather messy, confused way
where sources gel into something quite different.
I love many things equally – African and Oceanic tribal art,
anything Italian Renaissance, 1920s Paris, 1880s London but also
[Neoclassical architects] Robert Adam and John Soane. I traveled
a lot in India years ago and there's nothing more beautiful than the
Mughal palaces of Agra, Delhi and Lahore. I get inspiration from the
natural world, too, and collect stones and bits of old wood and coral
when I travel. Their organic forms are pure magic.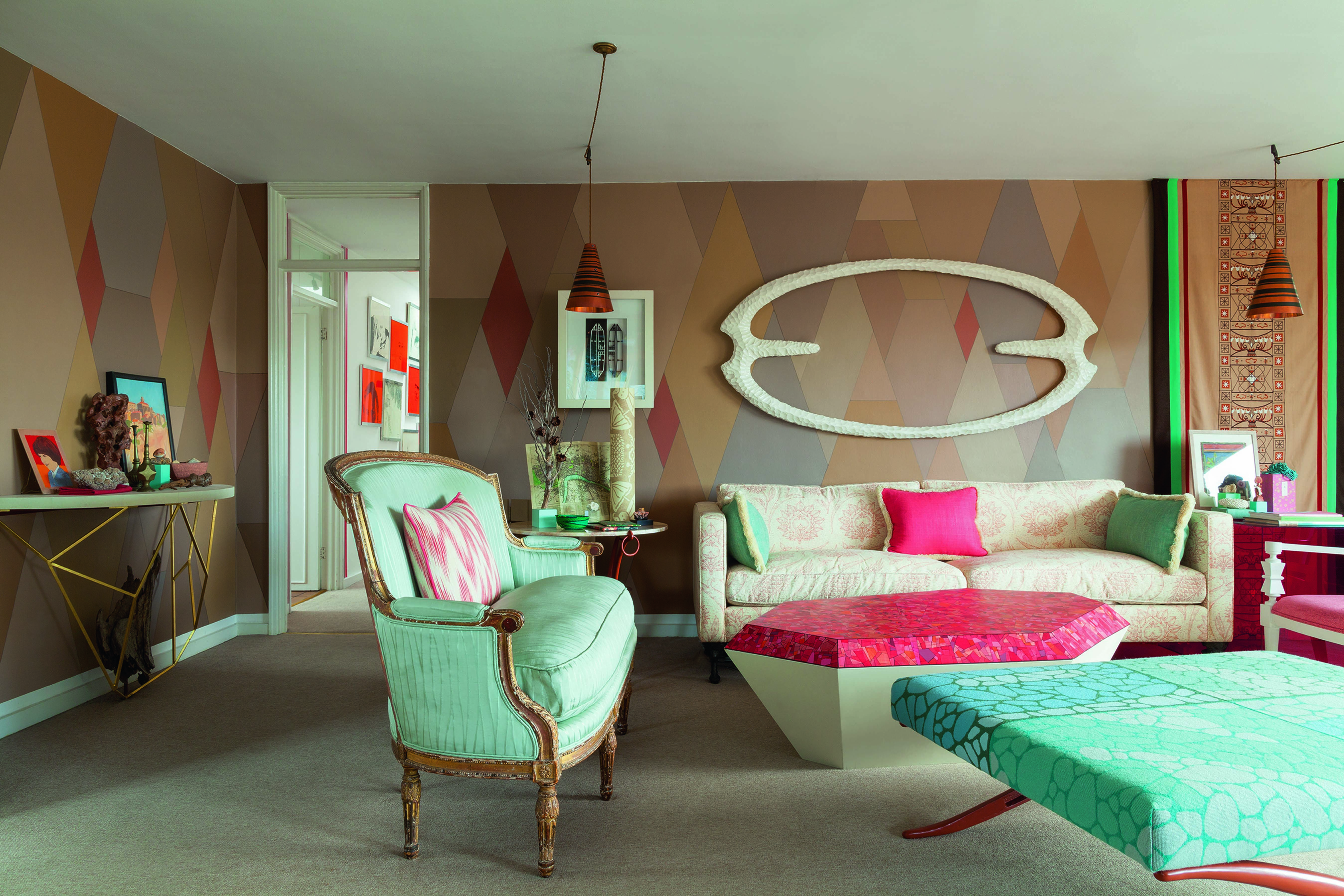 Hicks designed living room with his X-Frame Ottoman seat in the
foreground; photos courtesy Ashley Hicks.
Does art influence your work?
I don't directly or consciously take from old paintings. It's more a
case of absorbing an atmosphere or an idea of color. Currently, I'm
keen on the play of colors used by the Late Renaissance/Mannerist
masters. I'm obsessed with painted rooms. German artist Max Ernst
painted a fascinating, mysterious bedroom for French poet Paul
Eluard and his wife Gala, who later became Mrs Salvador Dalí,
with giant butterfly wings on the door. Another example is a tiny
bathroom Jean-Baptiste-Camille Corot painted with Italian views,
which is now in the attic of the Louvre. In my London apartment
I covered the walls with hessian cloth and painted on it sepia-toned
Greek muses, a view of Constantinople and a giant eye peering inside.
The hessian gives it the look of a tapestry so it feels like something
aged that modern objects have been placed against.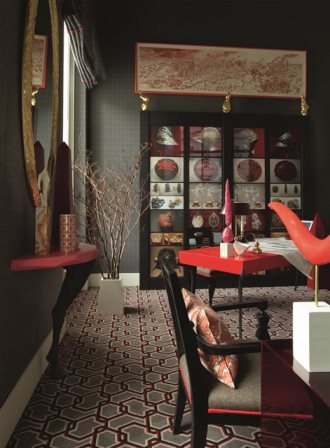 Hicks is well known for his collection of vivid patterns
for tiles, wallpaper and flooring. Pictured are two versions of his Chainmail carpet
pattern.
Patterns are an important part of your work. What is the appeal?
I love a mixture. Geometrics were what I grew up with, and I have a
strong graphic sensibility that enjoys straight lines and angles. I also
love both tribal pattern-making, which is often geometric but naively
handmade, adding an organic touch, and historical, structured floral
designs like Renaissance and Ottoman velvets. I like to create patterns
from organic inspirations to sit alongside historical motifs.
I like to create special, non-repeating geometric designs, painted
either large-scale on walls or small-scale on furniture. I have
designed a printed linen called "Salvadori" that is very good as upholstery – a grand Renaissance velvet design that I redrew as if
it was an old woodcut print, which gives it a modern edge.
How do you go about designing a space?
I always sketch by hand. I also love to make things myself like door
handles that I shape in clay to have cast in bronze and furniture
pieces that I carve from wood or epoxy foam and then gild or paint
myself. There's something so direct and rewarding about making
things with your hands. It gives a very personal signature to a room.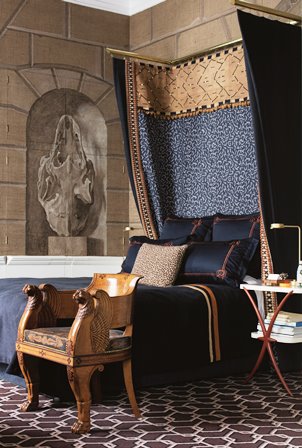 Hicks is well known for his collection of vivid patterns for tiles, wallpaper and flooring. Pictured are two versions of his Chainmail carpet pattern.
How would you define your furniture collection of tables and chairs?
Classical inspiration, modern technique. Everything is made in
England. Most have cast metal legs for which I made the original
forms myself. Tabletops can be in any material, from simple wood or
lacquer to malachite-style scagliola or hot pink shagreen.
Do you have a preferred material you use or do you like to experiment?
I'm more interested in the look of something than using a particular
material, whether it be an expensive natural material or something
else. I experiment. For example, I recently covered the walls of
my tiny London hallway in cork panels, like Marcel Proust's Paris
bedroom, but divided into random blocks with a framework of
gilded wood. The cork has all its natural markings, but I added
painted marks to make it a bit more like an old Roman stone,
and random brushstrokes of a green, pumice-medium paint, like
malachite crystals, which gives an odd 1980s look to it.
ashleyhicks.com