Founded in 2014, interiors magazine Cabana has become an international success by featuring homes full of character and color. Led by founder and editor-in-chief Martina Mondadori Sartogo, the publication was the perfect partner to highlight the decorative potential of Corian® Solid Surface.
With Milan Design Week 2017 as a backdrop, Corian® Design and Cabana magazine organized a much-talked about exhibition that presented seven interior scenes in maximalist patterns and colors to demonstrate the expressive qualities of a series of fascinating aesthetics of Corian® Solid Surface. Mondadori Sartogo, together with Christoph Radl, creative director of Cabana, curated the show in collaboration with Martino Berghinz Studio. The interiors were presented in seven cabana-style structures, each inspired by a different culture and each designed by talented personalities drawn from the fields of interior design, decoration and fashion.
The concept was to create a multicultural village that projected a modern day Shangri-La rich in color and contrasts where several new aesthetics of Corian® Solid Surface served as the centerpiece of the show.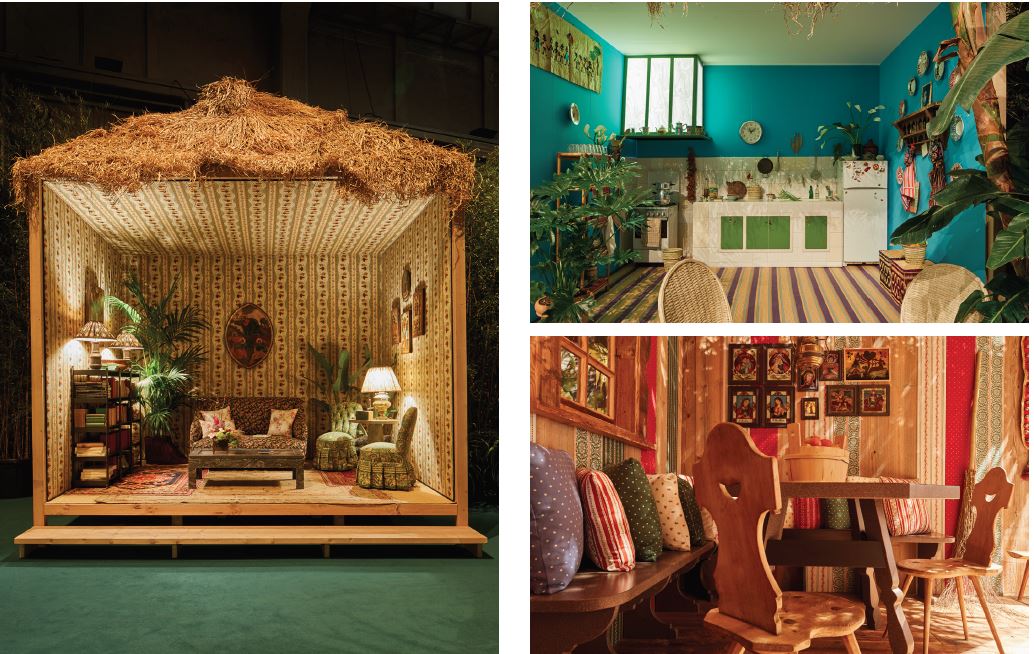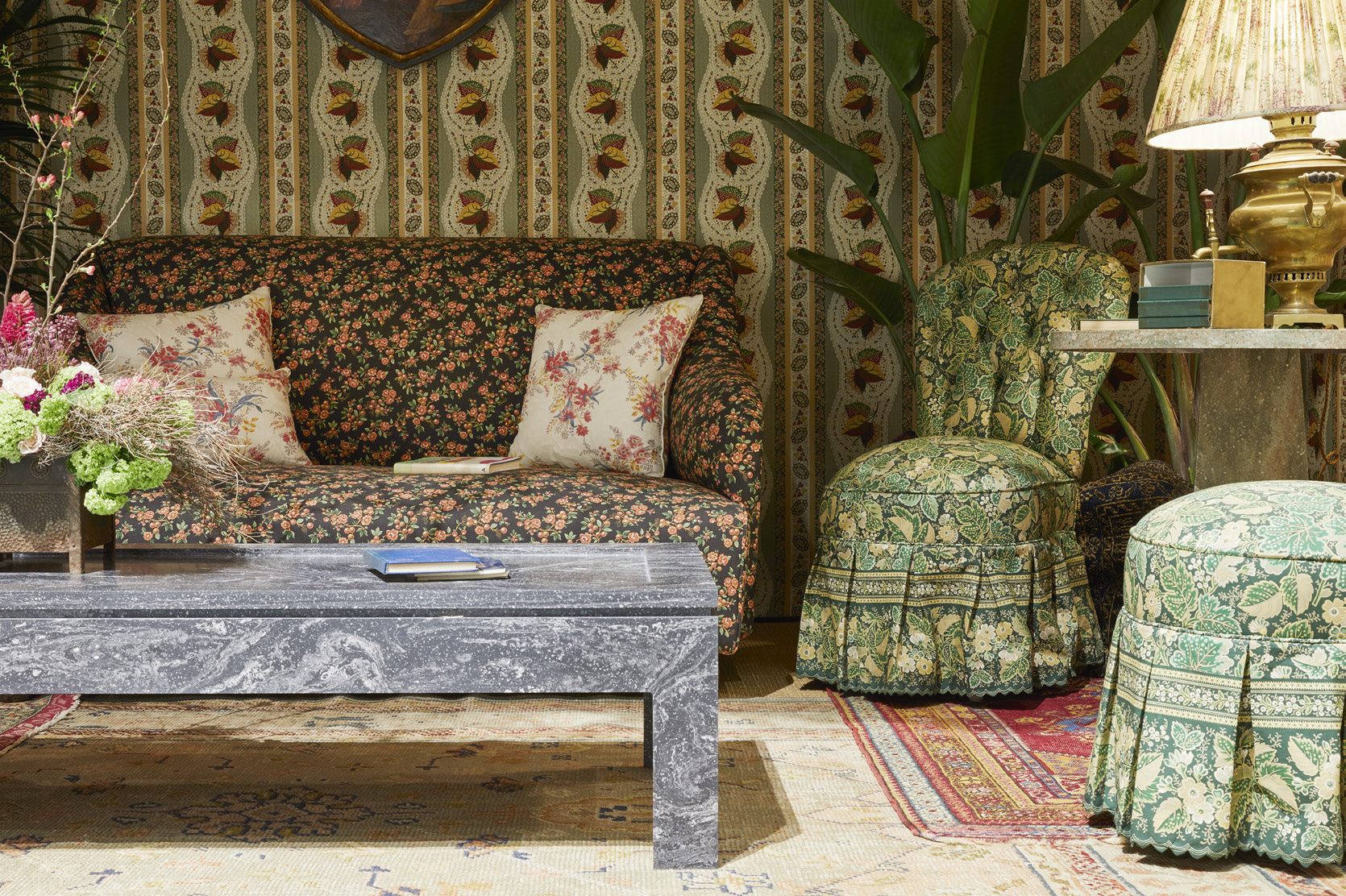 THIS PAGE (Clockwise from topleft): Russian-inspired living room by
Nathalie Farman-Farma; Moroccanstyle kitchen scene by Stephan Janson;
Tyrolean stube cabana by Susanne Thun; detail of Farman-Farma's cabana
with coffee table in Corian® Cosmos Prima color.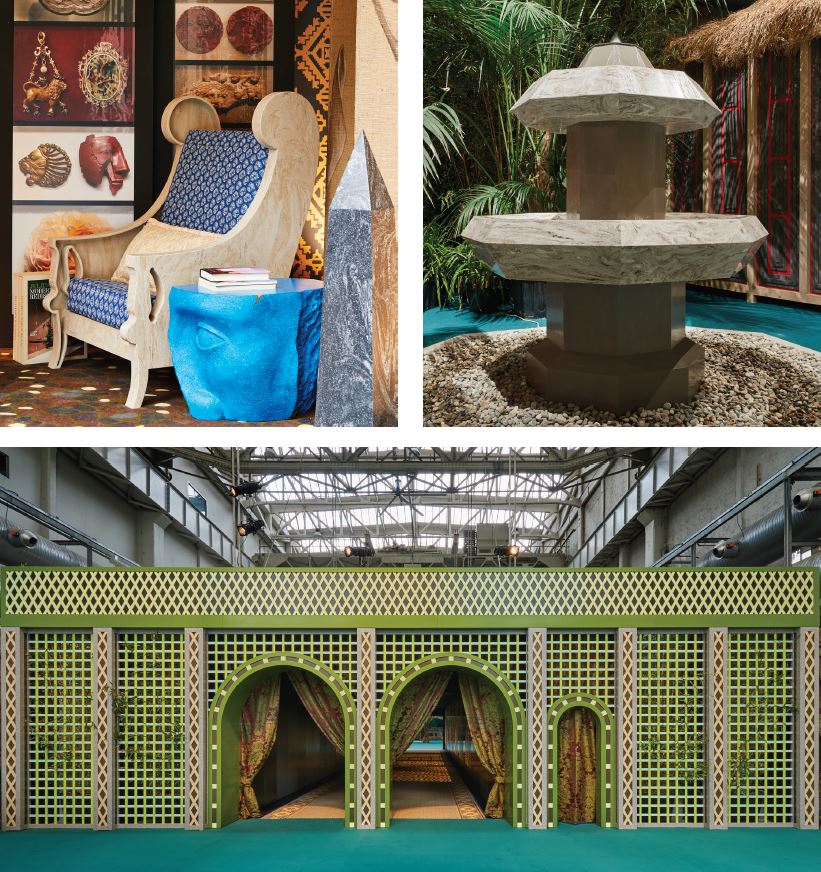 THIS PAGE (Clockwise from top left): Armchair in Englishman's study created by Ashley Hicks in Corian® Windswept Prima color; fountain by Martino Berghinz using Corian® Smoke Drift Prima and Corian® Weathered Concrete colors; entrance gate to exhibit designed by Christoph Radl in Corian® (colors: Mint Ice, Deep Mink, Raffia, Platinum, Lime Ice, Blooming Green, Grape Green).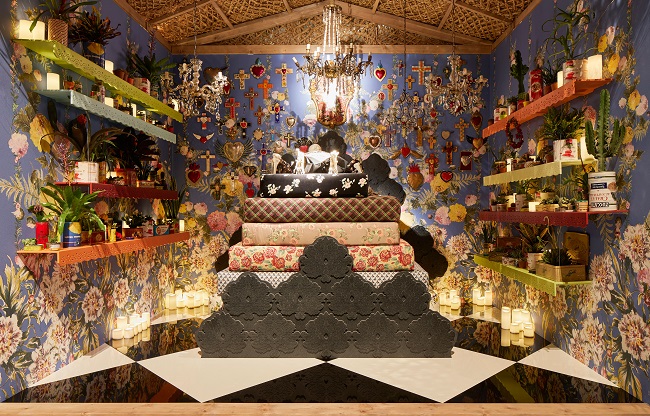 Detail of cabana by fashion designer Antonio Marras that was styled to evoke the ambience of a fantastical Mexican boudoir. Photo Filippo Pincolini for Corian® Design, all rights reserved.