Corian® invited the visitors of KBIS to expect the unexpected as they immerse themselves in the new Corian® and glimpse a preview of its largest product introduction ever. Both Corian® and DuPont™ Zodiaq® quartz take center stage in novel designs that beguile and appeal to the senses and sensibilities.
Designers browsed through 10 inspirational vignettes, representing different kitchen and bathroom environments, that showcased a new standard of elegance brought to life thanks to the design and aesthetic versatility of Corian® and Zodiaq®.
Visitors of the Corian® booth at KBIS had the opportunity to experience all that the Corian® SMART Kitchen has to offer those who demand a combination of performance efficiency and superior style in their kitchens. In addition to beauty and style, built-in features including hot plates, herb planters, drying racks and more, as well as other integrated technologies make this sleek kitchen workspace perform for the owner in a custom way that only Corian® can make happen.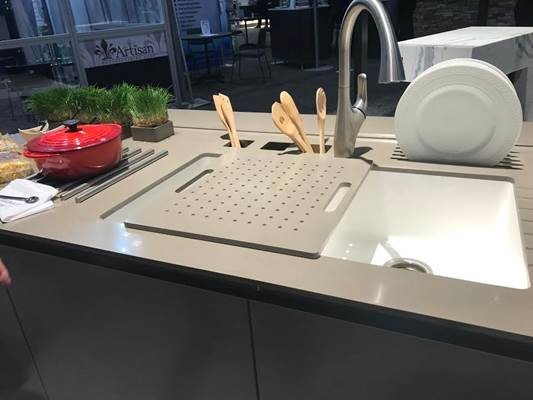 SMART Kitchen features, including Corian® Charging Surface
"In 2016 we harnessed the power of our global design network to bring the very best in aesthetic innovation and performance to our customers," said John Richard, global business director for Corian® and Zodiaq®. "Our unique design materials in combination with our SMART Kitchen technologies enable designers to expand what's possible – past beyond the way anyone traditionally thinks of countertops, and onto designing a kitchen space that truly works for their needs and tastes," Richard added.
Corian® also collaborated with one of the world's foremost virtual reality experts to create a one-of-a-kind kitchen experience that shouldn't be missed by any visitor of the show.