Corian® has featured prominently at the London Design Festival for many years, especially when a dynamic design also involves direct public interaction, thus demanding both robust performance and striking beauty.
This combination of elegance and durability also means that certain installations offer the sustainable bonus of a long and reusable life, reprising their role either at the London Design Festival or as permanent features in other locations. This year sees both brand new projects in Corian® by emerging talent and the return of key pieces designed to make the Victoria and Albert Museum hub welcoming and informative for the vast number of Festival visitors.
Shapescape by Kangan Arora at the London Design Fair
Kangan Arora has created the 25 metre facade and show signage for the London Design Fair (Tent, Superbrands and International pavilions at the Truman Brewery) as a 'shapescape' comprising various materials and surfaces, including multiple elements in Corian® to greet the 25,000 design aficionados who visit the show over four days. Kangan chose Corian® in Everest, Warm Grey, White Cap, Strawberry Ice, Grand Brown and Deep Nocturne colours and fully exploited the material's formability to create a range of intriguing shapes and patterns. Several of the pieces used were off-cuts of Corian® from the fabrication process of commercial projects.
100% Design Modular Bar by Studio Glowacka, Olympia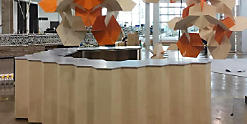 100% Design Modular Bar by Studio Glowacka. 5 separate modules based around an aluminum frame with a birch ply skirt, concealed fixings and countertop elements made from Corian® in Juniper.
Studio Glowacka have come up with a clever concept for the main bar at 100% Design, in the form of a modular system that can be re-used by show organisers Media 10 for this and other events. Maximising the natural advantages of the hexagon, both aesthetic and practical, they have created 5 separate modules based around an aluminum frame with a birch ply skirt, concealed fixings and countertop elements made from Corian® in Juniper (one of the new Earth Heritage colours).
Pop-up Shop by Loris&Livia at the V&A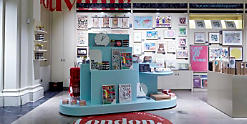 ISLE by LORIS&LIVIA. A pop-up shop for the London Design Festival in the V&A made from Corian® in Mint Ice.
Corian® forms the LDF temporary design store. Created in partnership with the V&A, the stand-alone display is located within the museum's permanent shop and sells a specially created collection of souvenirs celebrating the capital. These include a clock made from Corian® by Pentagram with London postcodes instead of numbers.
'Isle' is designed by Loris&Livia, the London-based, Swiss-born design duo, who have maximised the material to bring a distinctive form to the display. An intriguingly shaped, multi-level unit with integrated lighting, the display system is seamlessly wrapped in Corian® in the Mint Ice colour.
Louvre LDF Information Desk by Giles Miller Studio at the V&A
The Louvres Desk design by Giles Miller Studio. The desk is made in Corian® Deep Nocturne colour manufactured with innovative DeepColour™ Technology. Photo Jamie Smith for DuPont, all rights reserved.
The eye-catching curved LDF information desk is made from sections of ultra-versatile Corian®, which has been machined into a specially designed finish created by Giles Miller Studio, renowned for a fascination with the manipulation of light and reflection in surfaces.
Taking classic louvre slats as inspiration, Giles Miller Studio generated panels with various levels of directional reflection inlaid into the surface. The panels interplay with the light depending on their orientation and the effect is beautifully fulfilled in this dazzling display of geometric reflection. The depth of texture in the design is enhanced by the choice of Deep Nocturne – created with DeepColour™ Technology by DuPont which enables deeper, more intense and more durable hues, with easier fabrication and improved resistance to wear.