The brief was to create a centerpiece of functional artwork within a heritage listed Brisbane residential Home. Two staircases were constructed with Corian® cladding.
Corian® Solid Surface was chosen for several reasons:
1. Complex thermal forming.
2. Seamless hidden glue joints.
3. Workability of the product surrounding custom profiling elements allowing a very organic and tactile staircase to be created, and in particular the splayed and twisted handrail / balustrade capping.
4. Durability of product.
5. Superior product giving a look and feel not achievable by any other material.
The stair structure was constructed from CNC cut mass timber elements, fabricated in-house, which was the first time this style of staircase structure has been done by Arden. The accuracy of the CNC cut sub-structure allowed the pre-formed Corian® Solid Surface balustrade elements to attach to the staircase with little to no site modification works. With a staircase of the shape and profile, accuracy from the start to end was paramount.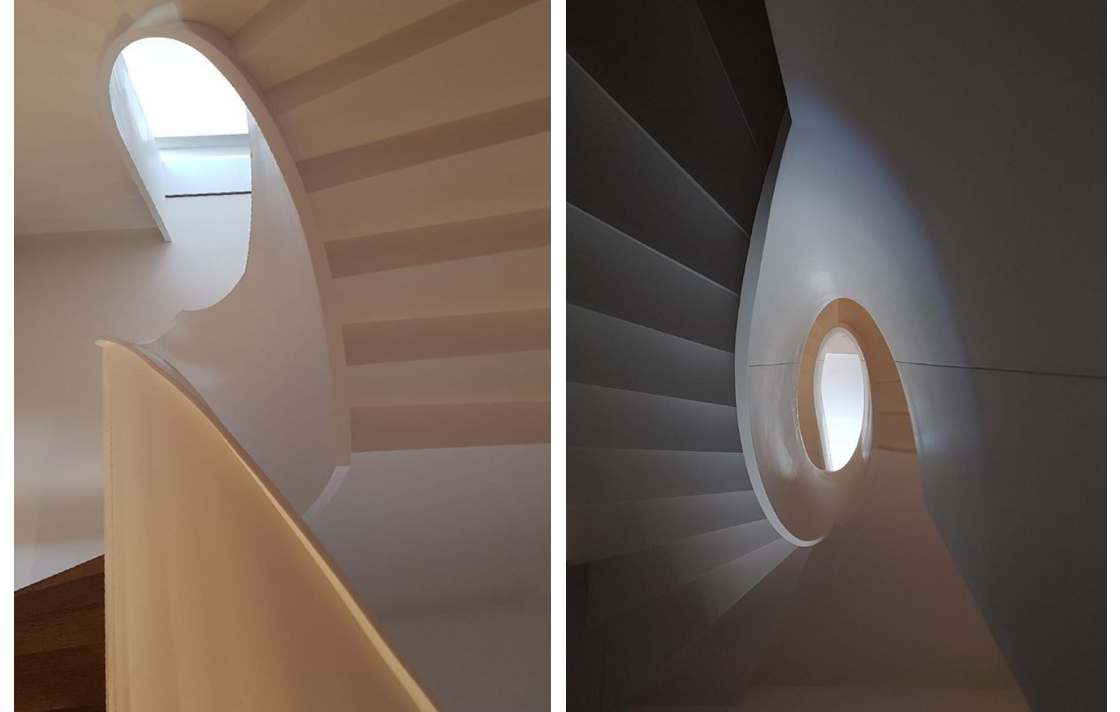 Corian® Glacier White used in staircases; Designed by Conrad Gargett Architects, photography by David Wilson, all rights reserved.
Beautiful in function and form, Corian® Solid Surface has surpassed the client's expectations thanks to the processing potential of Corian® Solid Surface especially surrounding the tight internal radius bends to the balustrade and the thermal twisting of the handrail capping.
More information about Maritimo House
Corian® Solid Surface Colour (s): Glacier White
Applications: Staircase
Design By: Conrad Gargett Architects
Fabrication: Arden Architectural
Photography: David Wilson