With 41% of newly installed kitchens including an island*, this impactful feature has become an integral part of the kitchen.
It's easy to see why - an island unit brings together usability and practicality with the opportunity to design and create a truly unique centrepiece.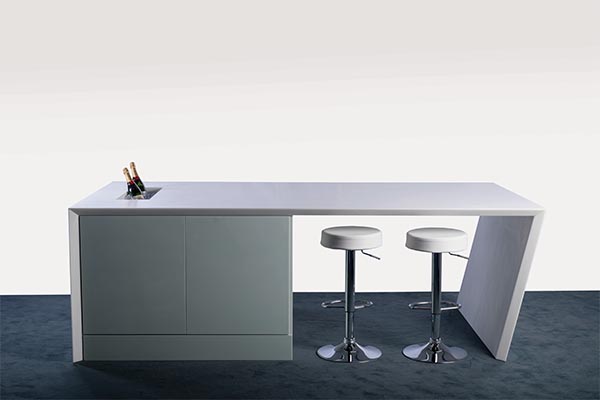 A champagne trough inset into a dramatic island made with Corian® Solid Surface in White Onyx and Seagrass colours – a chic touch to any kitchen space. Fabricated by Unique Fabrications Ltd.
Corian® Solid Surface lends itself perfectly to kitchen islands. This versatile and attractive material is available in an extensive choice of colours and provides the ultimate freedom of expression in kitchen design, from crisp contemporary to warm and welcoming traditional styles.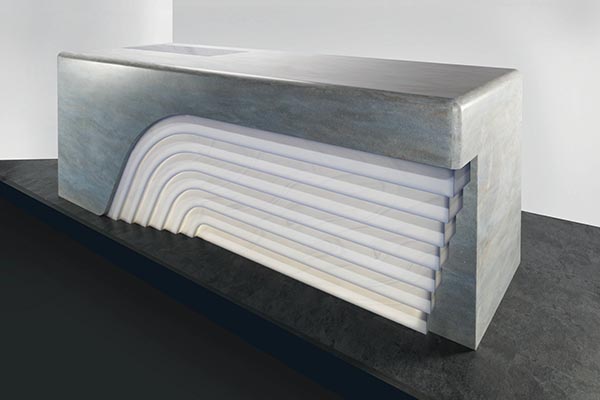 Colin Wong's 'The Rock' concept, which debuted at KBB 2018, combining Corian® Solid Surface in Juniper with backlit strips of Corian® Solid Surface in Verano White hue. Fabricated by Wharf Seamless Worktops.
Its unique properties allow for innovative features to be seamlessly integrated. For example, the ability of Corian® Solid Surface to be fabricated as thin sections can be combined with the clever use of backlighting to achieve a highly dramatic effect. This brings a touch of glamour and warmth, focusing light levels where needed most, and adding a whole new dimension to how lighting is experienced in the kitchen area.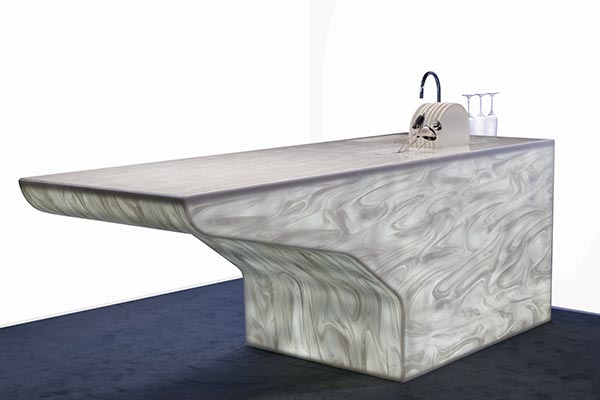 The island made with backlit Corian® Solid Surface in Grey Onyx colour proved to be the most popular island on our stand at KBB 2018. A multitude of integrated technologies and features, including wireless charging and backlighting, ensured the visually impactful island was as smart as it was stunning. Fabricated by Cutting Edge (Pitstone) LLP.
A further advantage of working with Corian® Solid Surface is its ease of formability and seamless qualities. Curves, angles and textures can all be achieved with no visible joins or seams, ensuring organic shapes and long lengths flow and blend into the kitchen environment.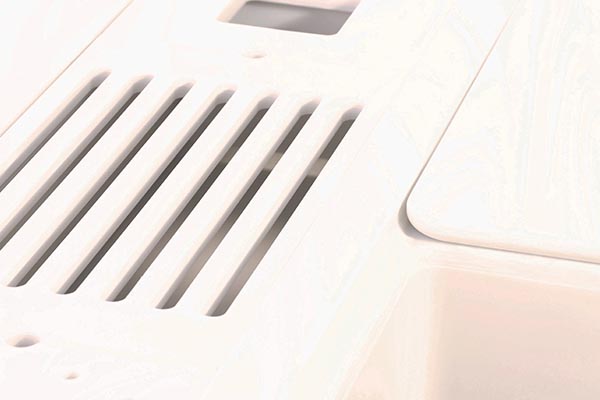 Hygienic, durable and long-lasting, the properties of Corian® Solid Surface allow you to design integrated features such as wireless charging, champagne troughs, drying racks and more.
Combine all this with the ability to integrate features such as wireless charging, champagne troughs, drying racks and more, and it is clear to see why Corian® Solid Surface is an ideal choice for designers and fabricators alike. When it comes to kitchen islands, the only limit is your imagination.
*2018 Houzz Kitchen Trends Study – UK
Photography: Jonty Wilde Photography; all rights reserved.