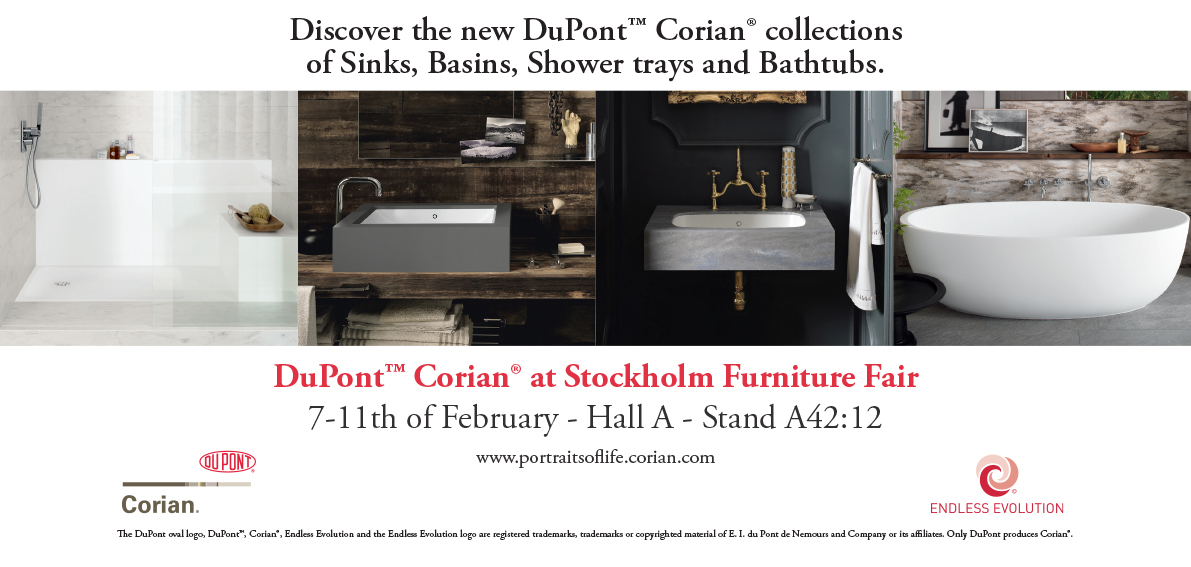 In its stand (Hall A, Stand A42:12) at Stockholm Furniture & Light Fair 2017 (Feb. 7-11, Stockholm, Sweden), Corian® will display its renewed and expanded offering for residential and commercial kitchen and bathroom environments, and ranges of fascinating colours made with unique manufacturing technologies.
The Corian® portfolio of kitchen sinks and bathroom basins is characterized by versatile, contemporary design and innovative technical features. They can be integrated into Corian® tops providing beautiful, high quality, inherently hygienic and reliable designs to residential and public spaces.
The renewed collection of Corian® kitchen sinks includes 25 sinks in 7 families: - Smooth (two models), Salty (one model), Tasty (one model), Rounded (one model), Sweet (eight models), Spicy (seven models), Sparkling (five models).
The collection of Corian® bathroom basins includes 22 bathroom basins in 9 families: - Purity (two models), Relax (three models), Refresh (two models), Energy (three models), Calm (four models), Peace (one model), Serenity (three models), Quite (two models), Care (two models for the healthcare market).
Corian® has just launched shower trays and bathtubs for residential and commercial environments, more precisely:
Corian® Delight bathtubs (available in three models: rectangular with top, oval with top, freestanding)
Corian® Smart shower trays (available in 12 dimensions, all customizable)
Corian® Casual shower trays (available in eight dimensions)